Fall 2014 Finals
23 November | MUD Headquarters
The Underdog cometh. After taking a circuitous route to the finals, namely starting the season 1-7, Kingslayers found a way into the finals thanks to their zone defense against Justice and some sweet over the tops against Missed Cxns. On the other side, Hootenanny upheld their one seed by blowing out the at-this-point-ironically named Win Win and then surviving some early sparks from Hustle Sprouts. This set up a repeat of the summer playoffs between Sean and Mateo. And because it was his first, hard-earned championship (and the first victory for a five seed), it seems only appropriate to give the last word(s) to Sean, heavily-edited:
"It all started with everyone knowing that Mateo can't win in the fall. After trading the first points, Kingslayers worked the disc through their women, especially Laura Cella and Therese Zosel-Harper, and used zone defense to build a short lead at 3-1. However, Josh Kent, Chris Nelson, and Mateo kept things close and halftime was only 8-5. In the second half, Kingslayers never faded. After a few Matt Wiener hucks, EGrad I/O breaks, and Josh Mandell crazy-but-somehow-effective-and-obviously-lucky decisions, they found themselves up 14 to 10. At that point, Therese made an in-cut for a Matt Wiener backhand and the kings had been slayed. 15-10 Kingslayers."
Congrats to The Kingslayers. Thanks to Winston; thanks to all. Josie and Orion won the MUD party, with Chris Nelson coming in a close second. At the after party, Eric Schulman's wife and then Maggie Mead gave birth to Alexander and Truman, respectively. Babysitting applications can be mailed to John Kim. Stay clean over the winter.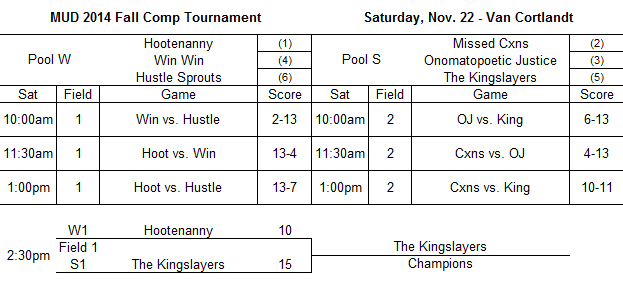 ---
Seeds get determined in this close fall field
16 November | MUD Headquarters
#1 is Hootenanny. After having clinched the top spot with their 15-9 defeat of Justice, a game which featured a brilliant Tom Kucera callahan, Hoot couldn't hang on against The Kingslayers in Week Nine. The tense 15-13 game smelled a lot like playoffs as both captains were conscious of Summer's final and the one upcoming. Sean hopes that game was a preview; Mateo hopes to get savage Maddie Abel and Lauren Arnesen some subs. A Fall championship has eluded Mateo for years. This year it looks like he's betting his fleet of handlers can master the wind.
#2 is Missed Cxns. Also going 1-1 in Week Nine, Cxns couldn't handle The Slayers either, losing 11 to 6, but they did handle Win Win, 15 to 12. Sakon and the gang are at the helm of their pool, and their deep pool of deep threats makes them explosive if not dangerous. They'll need that speed against OJ's dump D and King's sky ball.
#3 is Onomatopoetic Justice. They didn't quite storm into Week Nine with four straight losses preceding, but they finally got their act together against Hustle Sprouts to head into the playoffs with a win (15 to 8). They're also the only team besides the top seed with a positive point differential. Justice has been streaky all season and Josie and Orion will likely have a plan to manage their pace and flow. In pool-play games to 13, this is a tricky proposition. They probably have a bunch of lefty moves planned. Keep an eye on that break sideline. And keep in mind that the last two Fall League's have seen a 3rd seed victor.
#4 is Win Win. After such a strong start, Win has only won two games since Week Two. In Week Nine, they got the second of those against Hustle, 12 to 10. But the regular season has never seemed to matter much to Frazer (Or Hunt, at least not recently). These guys are much better at knocking off top seeds in the playoffs. Naturally, they'll get their chance next Saturday.
#5 is The Kingslayers. The big, late-season threat. Mostly recovered and largely attending, this crew hasn't lost in a month. Their talent goes fairly deep as does their confidence. Knowing most of the other teams are preparing specifically for these guys, Sean had better be careful not to make the same mistake he did last season.
#6 is Hustle Sprouts. Finishing the season with four straight bombs was not Alex and Melanie's plan. But they've been missing a couple of their big weapons. In truth, these bottom seeders aren't looking to spoil anything. Schneider is right where he belongs: Fall League playoffs. The last two Fall trophies sit on his mantle. He's probably polishing them right now. He's probably wishing everyone good luck at the same time. Oh playoffs.
---
Both Clubs are full in week eight
9 November | MUD Headquarters
The Winners
Hootenanny emerged best in league after throwing a party for themselves and refusing to invite Win Win and Hustle Sprouts. Hoot won both games by just two points each, but they sit on top at 7-3. Missed Cxns clobbered Hustle (15 to 12) and then shutout Justice in the second half to win 15 to 8 and slide to a 6-4 second place: striking distance. And after three weekends at the lub lub club, The Kingslayers burst onto the scene and made everybody nervous. With near their full team, Slayer ran through OJ, 15 to 10, and then they decapitated Win Win, 15 to 4 (Fall 14's biggest blowout!). Now that Slayer is 3-7, they've given themselves a shot at not last place.
The Losers
Hustle Sprouts, Onomatopoetic Justice, and Win Win should all be worried about last place, especially after such a sour weekend. Then again, despite the losses, OJ and WW are two points out of last AND first place. Isn't that terribly exciting? With pool-play finals confirmed for Nov 22nd, next week will surely feature plenty of posturing. Scenarios abound!
---
Rain Holds Up the League in Week Seven
1 November | MUD Headquarters
For the second time this season, our players stay home and avoid getting wet. No top seed getting decided today!
---
W6: Sprouts and Cxns go WW, tighten race
26 October| MUD Headquarters
Missing an obvious woman and taking the field with only six people, Hustle Sprouts defeated Hootenanny, 14 to 13. Hustle co-captain Melanie Bronfeld had a heroic game and caught the winning score. Hustle went on to wipe out Win Win just for good measure. That game was 15 to 12.
After their lub lub visit last weekend, Missed Cxns squeezed past Justice 13 to 11 and then grabbed a free win vs. the forfeiting Kingslayers. Slayer also lost to Win Win earlier, 11 to 15. It was a real game, but one without Kingslaying women.
Perhaps more interesting was OJ losing to Cxns and then Hoot. And Win Win winning and then losing. Combine this with Hoot's weekend and we've got a three-way tie for first place. Not only that, but Cxns and Hustle are one game behind. Sure Kingslayers are miles away at 1-7, but who knows what next weekend will hold!
---
W5: OJ and Hoot surge while Cxns and Win drown
19 October | MUD Headquarters
Onomatopoetic Justice blasted to the top of the standings with two tough games. Well, one tough one. After Justice dispensed with Win Win, 15 to 9 (handing the latter their first lost), OJ battled a suddenly fierce Kingslayers. They won 17 to 15, in a game that should have been decided at universe. Nonetheless, the Dub Dub Club beckons.
Hootenanny cleaned up on Missed Cxns, 15 to 6 (though they assessed the first two points), and then they handed Win Win their second loss of the day and the season. That game was 15 to 9. Win Win suffered a couple of poked holes by the two teams now contending for the top spot.
Cxns blew the weekend too. After the loss to Hoot, Cxns fell to Hustle Sprouts, 11 to 15. But let's get to The Kingslayers.
Slayer decided to show up in Week Five. They got their first win of the season while WW was getting their first loss. It was a close one, 16 to 14, over Hustle. Their later two-point, extra-time loss showed the danger the present to the other teams like Frazer predicted after the draft.
---
Pickup Scheduled for Week Four
11 October | MUD Headquarters
We don't quite have quorum for makeup games, but come to good-turf pickup on 107th and Riverside Park at 1pm. This tragic rain that has followed and plagued us for a week should be over by then.
---
What Rain? Oh That Rain
4 October | MUD Headquarters
It is in fact pouring. Plans for tricks, licks and ultimate in Week Three are cancelled. Stay tuned for info about makeups or pickup next weekend.
---
The WW Club fills up as the nightmare returns in W2
27 September | MUD Headquarters
Two big winners left Van Cortlandt this weekend. Win Win won won over The Kingslayers (15-9) and Hootenanny (15-11), and now, in their splendid start to the season, they have only Hustle Sprouts in the way of their League Trick next week. Also, not surprisingly, OJ was responsible for two more killings in Week Two. Missed Cxns and Slayer fell, respectively, with a 13-10 POW! and a 15-7 BANG! to the Justice. Afterward, at the Lub Lub Club, The Kingslayers were offering sacrifices to the ghost of John Kim so as to avoid a League Licking when they face the Cxns next week.* The Hustle Sprouts could hear the commotion from the bar where the four of them were drinking tears, the only thing ever on tap.
The scourge of Fall league returned for the first unwelcome time in three years on Saturday. A forfeit! Shame befell Hustle Sprouts, perhaps for all eternity, when they could not field a team for the 12pm game. Hootenanny got the F*ing win, but then they rode the train home feeling the stink all over them. The Hustlers cobbled together a line for the second game and lost in what seemed like a decent game to Missed Cxns, 15 to 10.
After just two weeks, Cxns and Nanny sit at the middle of the standings with Onomatopoetic Justice just above them and the Sprouts just below. Win Win have Travis Rothbloom on their team and may have Rothbloomian intentions with their record this season. Sean is trying to avoid mutiny on the sloppy ship that has been The Kingslayers. He just needs a Fall win under his belt. However, only one team in MUD History began a season 0-4 and made the finals, and they (Detention) certainly didn't win. Then again, not many slay a king and live to fight it out.
*For you stat rats out there, John Kim has been league licked twice, in the same season! (SmileCrab).
---
Week One is namesakes, Flip flops, and absences
21 September | MUD Headquarters
The Dub Dub Club was bouncing as Frazer and Hunt and their team, Win Win, walked in and started twerking on the stage. This Fall season represents the first time in 12 combined seasons that Frazer and/or Hunt have lead a team to two wins to start a season. They beat Missed Cxns, John Sakon's first-time gig as a solo captain, 15 to 12. They also squeezed by Josie and Orion's rhetoric-savvy, Janet Jackson & Tupac-themed Onomatopoetic Justice, 15 to 13. Win Win appropriately sits atop the standings in this early stage.
Summer champ captain Mateo led his new team to a 1-1 finish the first weekend. Though Hootenanny proved themselves against Sean's Kingslayers, 15 to 11, they wiped out against Missed Cxns, 10 to 13. That game resulted in a small argument about when games should end/should they be capped. The commissioner-approved result of the discussion was that games will start on time or points will be assessed (perhaps on both teams!), and they will be capped (soft) after 105 minutes and (hard) after 115 minutes.
Sean Petterson, the sophomore captain, returns to us after his Summer finals appearance. His The Kingslayers, started the season under-rostered and 0-2. After Slayer lost in the Summer finals' rematch, they played down a player to give Alex and Melanie a first win for Hustle Sprouts. That game was 15 to 9.
So Win Win is at the top, and Frazer's-predicted unbeatable team, The Kingslayers, is at the bottom. Every one else beat and lost to each other. That's week one, killers!
---
Fall 2014 Is Going to Crush You
18 September | MUD Headquarters
Are you kidding me? Are you even close to ready for this? Look out, killers. It's time to blow out the windows of our weekends and rock this Van Cortlandt house all fall. September 20th is coming. Get set. Go.
---
Summer 2017, Spring 2017
Fall 2016, Summer 2016, Spring 2016
Fall 2015, Summer 2015, Spring 2015
Fall 2014, Summer 2014, Spring 2014
Fall 2013, Summer 2013, Spring 2013
Fall 2012