The Rainbow Tastes Like Ultimate Victory
22 November | MUD Headquarters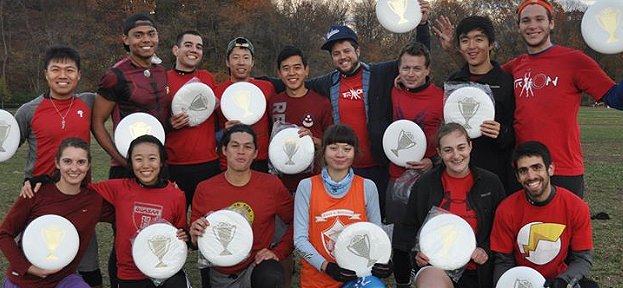 Skittles defeated Tall Tale in a windy battle predicted by the league. Sure enough it was Skittles' deep threats and ability to take advantage on two key turnovers late in the second half that led to the championship. Both Skittles and Tall Tale were perfect in their pools, though the Tale's Stefan Dicker suffered an ankle injury that would keep his prowess in the air and above-average throws from finals.
Tall Tale took the first half, but Skittles applied their best pressure all season in the second. Tall Tale's dumps couldn't reset and the wind took away anything long. Every score was downwind until Skittles got two quick upwind breaks. And then history settled in. Petterson was in all three finals last year and went to all of them this year. This fall was his third win as a captain (he has three others when he used to play with Mateo). Not to be outdone, Karina Ray became the third captain to win as a rookie, and she got her second championship in the league (her first was when she joined the league in Sp13 with, you guessed it, Sean and Mateo). 15-season veteran Anton Pribysh won his fifth title. Meanwhile a league original, Sara Toguchi, had to wait 15 seasons, but she finally got her second.
The Latest has made a big deal that Mateo's teams have now lost five of the last six finals (there was one season when his team didn't make it). But it should be noted that Tall Tale brought on eight rookies and they all were legitimate candidates for a starting line spot on a finals team. This season was bursting with talent, new and veteran. Thanks to Commissioner Winston for making it happen, like he always does, beautifully.

---
Seeds Get in Line in Week Nine
19 November | MUD Headquarters
The regular season ended without incident, unless of course you count pervasive and abundant awesomeness. Playoffs take off Saturday, Nov 21. First games will start at 10am, and it will be a pool play affair.
Pool-play games are to 13. Soft Cap goes on after 75 minutes. Hard at 85 minutes. Finals, beginning at 2:30pm, will be played to 15 with cap at captain-decided lack of daylight.
Survey Says

The Top Seed
For the fifth time this season, Skittles went all wins on Saturday, cementing their league-best record by defeating Double Take (15 to 9) and Broken Baggage (12 to 11). Karina Ray's captaining debut resulted in an excellent regular season, and her co-captain Sean has earned his second consecutive top seed. Sean led that last team to the summer championship, but he didn't quite have to face the level of speed, talent and chemistry that's waiting in the seeds beneath his team's this season. Sean's desperate appeal to the commissioner to let the 1 seed choose its pool opponents just shows this is anyone's tournament. There is no safe money, but it wouldn't be foolish to put it on Skittles. As The Latest detailed in Week Five, these guys know how to win the or-go-home games. They can fill each line with men who just won in the summer together. And several of the wins they had this season were without all the members of their first string. Though they've lost to both teams in their pool this season, Skittles is a deep team with serious expectations. The league seems to think they'll be in the finals, and that they will be because of their deep threats. If they don't choke, of course.
The Second Seed
Tall Tale put any rumors to rest this past weekend with victories over Space Team (13 to 10) and then Double Take (14 to 10). They settle into the second seed and will face Foliage and Broken Baggage in their pool. The Tale has defeated Baggage all season, but has a losing record against Foliage. Like Skittles, Tall Tale has a fairly deep roster, but they have shown that they need their starters to show up and make plays to get wins. Attendance shouldn't be a problem; it's finals after all. Captain Mateo will need to sub smart and be aware of match-ups, something the 24-season veteran has a decent amount of experience with. Survey respondents seem to think Tall Tale will reach the final game. If so, their opponent may find it comforting to know that no 2nd seed has ever won a Fall finals, and that Mateo has led teams to four out of the last five Fall championships and lost each one. Goodness, a win this season would make a real good story.
The Third Seed
Orion and Josie have helmed another 50/50 Fall League team. And once again, it is enough to earn them the three seed. Foliage Lub Lubbed last weekend, losing to Broken Baggage (6 to 8) and Space Team (8 to 14). The wind may have been a factor, and if so, they need to buckle down for playoffs. This team has been wildly inconsistent with roster size and skill level all season. They suffered a 12-point loss early on, but recently put together a +15 and then a +8 weekend. Which team will show up for finals? Hopefully the whole forest will be there and their honeyed captains can sort out the lines. And as long as Foliage can survive 6th-seeded Baggage, they should feel confident knowing that, in 11 combined seasons, neither Josie nor Orion have ever lost to a 2nd seed in a fall league playoff match.*
*Technically, Orion's Fall 2011 team Dave lost to the 2nd-seeded Fourplay during pool play; however, Dave needed only to cover a -4 spread, due to the nature of pool play, to advance, and they lost by three, which meant they won.
The Fourth Seed
The cadets of Space Team, meaning its mostly rookie stars, are not surprised to be in the fourth position. They are not even too bothered by their losing record. In fact, they can blame most of that nonsense on their largely absent captain Travis, who reportedly won't be at finals either. Space Team had a pretty good time this season. They even-Steved Week Nine, losing to Tall Tale (10 to 13) but then defeating Foliage (14 to 8). They won't face either of those team in pool play, but they have a positive point differential against the teams in their pool. Nobody wants to face a couple of professional ultimate players in their first pool play game, and that's just what Double and Skittles are going to get with Space Team. Not only that, but who's going to guard Kyla and Brianna in that pool? Have you heard that Steve Carpenter has been waiting three years for another playoff win? Turns out 16 of his teammates, including his captain, have been waiting their whole lives for a MUD Championship.
The Fifth Seed
The top-seed killer sits down here in 5th place, poised to strike again. He did it first in Summer 11 when the third-seeded Goonies upset The BeeGees for a championship; it happened again, when, two days after becoming a Centurion in Spring 14, he and bottom-seeded Rhino Cats stole a universe point win from True D in the first round; and most-famously, the very next season in Summer 14, he led We've Got a Biter from the depths of the eighth seed to a one-point, first-round victory over the previously undefeated I Barely Know Her. In the past, Captain Frazer did it all with massive and perfectly-used talent. This season he has similar weapons at his disposal. He didn't fully display Josh Kent, Laura Kaplan-Weisman, or the tireless John Walsh in Week Nine, and Double Take lost lost to Skittles and the Tale. Andrew Werblin and Brianna Griffin weren't even there. Like Mateo's, Frazer's Fall teams have fizzled ever since he won one (in Fall 11). Perhaps the only good news for Double about the survey results above is that very few people expect Double Take to choke. And if they don't, Skittles and Space Team might have Double trouble.
The Bottom Seed
Though they even-Steved Week Nine, beating Foliage but losing to Skittles, Broken Baggage put together some nice wins late in the season to escape any sort of "worst-ever" ignominy. In fact, of the 24 bottom seeds MUD's Comp League has seen, Broken Baggage has the second-best margin of victory, and has scored more average points per game than all of them. This is a good team. It seems Danny Bolivar is back and Baggage's mid-season waiver pickups–not to mention their The Latest-touted rookies–have been making plays left and right. Captain Thompson is still out, but she and Johnny Sakon know how to bring a team to the finals, a la last season. A good bet would be that the Baggage/Foliage pool game in the first round will be 85 minutes of electricity.
Get there early.
---
Going Clubbing in Week Eight
8 November | MUD Headquarters
The Winners
Skittles finally got back to the WW Club after two weeks hanging with Steve (the even guy). The Rainbow Tasters slipped past Space Team, 14 to 13, and they survived Tall Tale, 15 to 13. Skittles jumps into first place with the wins and now they control their own fate. Slightly more impressive, however, was Foliage's WW outing. Not only did the deciduous fall phenomenons virtually secure themselves the three seed or better, but they did it through a league trick, Josie and Orion's first as captains. But the most impressive, perhaps the WW Club weekend of the season, belonged to Broken Baggage. Truth.
With what seemed like all cylinders firing, Baggage tore apart Double Team, 13 to 5, and then had their way with Space Team, winning 15 to 8. Captain Christine suffered yet another, this time season-ending MCL tear, but she had much to brag about regarding the wins. Special mention goes to Jarred Mihalik for playing "fantastic" including a skyball snag over big bad Drost; to Sam Austin and HK for "some of the best games" your captain has seen you play "all season;" to Connor Dougherty for finally playing a little more conservatively; and to Sherry Li, Derek Cooper, and Aly Martori for massive layout Ds that brought home the Broken Baggage bacon. Well done Baggage, the monkey is off your back, and infamy is looking elsewhere to haunt.
The Losers
Might as well wander down to the Lub Lub Club and see what the cat spit out. My goodness, Tall Tale, Space Team, and especially Double Take got clubbed. Tall Tale–who, on Saturday, was missing their captain, who hadn't been to the LL Club since Sum14 (22 chances) when he was put there by a team led by Mark DQ, who, on Saturday, was filling in for Mateo and leading his team back to the loser club–has likely lost the chance at the top seed this season. Tall Tale veteran and league founder John Kim reports "we just looked slower than our opponents out there." Space Team has slid, but can still even their season, and has decent shot at the nebulous four seed from which no finals' winner has emerged. Double Take actually has a shot at the three seed, but not if they keep up the mediocrity which has followed their stellar Week Six. Double is one loss away from a league licking, and that 's not the way you want to go into a tournament.
---
Loosely-costume, Heavily-spirited Week Seven
31 October | MUD Headquarters

Skittles's Karina Ray chases after Broken Baggage's Sherry Li
Our beloved Van Cortlandt hosted much more than MUD's Week Seven on Saturday. Comp players arrived and searched for their teams not only amidst the usual XC and cricket, but also, this time, among ersatz ultimate. However, the Halloween Hat Tournament, which honestly couldn't find a one-time permit on any other of the myriad green space of New York City, didn't fool many of us for long. We quickly saw how much better looking both within and without our costumes we were.
The Winners
Tall Tale looked good adding two more wins to their league-leading record on Saturday, especially rookie Dave Otis. As a Spider Monkey, Otis helped his team take down Double (15 to 12), then, with Otis as Spider-Man, the Tale whooped on Broken Baggage, winning 15 to 11. Additionally, Tall Tale's sophomore handler Chris Giblin and his rookie baggage Richie Guilfoyle were unstoppable in the tool shed with all those hammers and saw-sharp break throws all weekend.
Foliage made a dead heat out of the race for third place with a trip to the WW Club in Week Seven. Now there's three teams at 6-6. With most of their top picks gelling, Foliage tore through Space Team (15 to 7) and then ate the bag of Skittles, who was missing a decent amount of their baggaged roster. Foliage won the second game 15 to 8. Foliage's star rookie Owen Murphy showed a lot of flash in the two wins. Week Seven's winners face off in the first game next Saturday.
The Losers
Double Take went the wrong way on Saturday. Poised, possibly, to acquire first place, instead they dropped two games and lubbed lubbed themselves into that aforemetioned third-place tie. They sit at the top of that knot with the best differential, but Frazer's going to need something more out of his Delaware law firm of Kramer, Phillis, Werblin, and Walsh and his league-leading seven Centurions, especially Sarah Heffernan and her beloved.
Broken Baggage sunk deeper into MUD infamy, albeit just barely. In their third universe-point game of the season (and second in a row), they lost 11-12 to Skittles. Then they ran into the big ol' Tall Tale, and that story has been told. A couple of Broken's players were seen slipping away to the Hat Tourney, which is shameful, but understandable, perhaps, at 1-11. That said, rookies Jarred Mihalik, Connor Dougherty, and Sherry Li are standing with their captains and will be largely responsible for Broken's next win(s) if it ever comes.
Even Stevens
Skittles and Space Team went 1-1 on the weekend, and they each have a Steve to prove it. The rarely in attendance Steve Wang was no where to be found on Saturday and didn't help his team maintain their second place standing, one game out first. Skittles play Tall Tale in their second game next weekend. Perhaps Wang will show and try to capture the top spot. And since it became mathematically impossible for Steve Carpenter to get to 100 wins with Space Team, he's put up a 42.9% win percentage. Contrast this with his fantastic 70.23% win percentage over 9 never-losing seasons and Captain Travis might want to talk contract renegotiation. Either that or Carpenter's got nothing but wins coming up. With Drost, Dixon and the Dayer sisters supporting, I wouldn't put it past the big guy.
---
Tricks and Licks in Week Six
25 October | MUD Headquarters
Halloween's not until next weekend, and yet Skittles, hiding in a pile of leaves, jumped out and tricked us all. Skittles claimed solo first place (for the moment) with a 15-12 win over Tall Tale in their first game in Week Six. But then! They lost on universe point to the surging Double Take to make the race for the top seed all the more interesting. Double Take had already beaten a roster-bankrupt Foliage 14 to 8. With their WW Club weekend, Double moves one game out of first place. Tall Tale maintained their standing with a 15-11 defeat of Space Team. Tall Tale plays Double Take in game one of HalloWeek Seven. Will the Take take it? Is the Tale too Tall? Mateo has beaten Frazer in 74% of their captain battles. Likely only attendance will tell, though perhaps costumes!
Broken Baggage lost to Space Team (15 to 13) and then Foliage (14 to 13). This team is Broken and this team is broken. They face Skittles to start Week Seven. That's going to be a hefty order, especially after being league licked over the last five games. A losing record is guaranteed, but statements can still be made, and eight rookie seasons can still be salvaged. The worst team in MUD history won 13.33% of its games. Broken's going to need two more wins to beat that, but why not win out? Give us all something to shake a stick at.
In Centurion news, the ranks are closed for this season. Travis is going to fall at least one game short. Three other players had outside shots this season: Steve Carpenter (who may become the fastest to 100 wins) and Chris Nelson both have 91 wins currently; but, of course, Evan Shulman already has his sport coat and personalized set of keys to the "C" room at the WW Club. What's on those keys? Travis, Chris, and Steve will just have to wait and find out.
---
Leaders Emerge in Week Five
18 October | MUD Headquarters
Skittles won its third and fourth games in a row on Saturday versus Foliage (15 to 9) and then Space Team (14 to 12). Now in a tie for first place, Skittles are one win away from a league trick, and they'll have to get through the other first place Tall Tale to do it. These two teams, captained by Sean Petterson (and Karina Ray) and Mateo Mead, respectively, are separated from the field by only two games. However, they are perhaps appropriate favorites. Of the 62 players in the league who have won a championship, almost 70% of those players last won on a team led by either Sean or Mateo. One of those two captains has won all but one of the last five championships, and they played each other in three of those five final games. In fact, over the past twelve seasons, the only time a championship game hasn't featured Sean or Mateo was Fall 2013, which, ironically, was the last time they were on the same team. Next week's marquee match-up should be a good one, but there's still enough season left for the other teams' captains to avoid drowning in the pool of statistical and historical implications.
Double Take may have the best shot. Captain Frazer led himself to his last finals victory, and his team evened their record in Week Five by stomping Broken Baggage (15 to 7) after a universe point loss to Space Team. Those astronauts are the other 4-4 team. And Space Team has a historical incentive of their own. While several players will be tickling the 100-win mark by the end of the season, Space Team's handsome, great-spirited, but oddly absent-this-season captain Travis is the only player league-wide that can mathematically do it. He needs only eight more wins to become a Centurion, and there are eight games left in the season. Get in that rocket ship and rock 'n' roll Travis!
On another field, as everyone was checking out the lovely tree line surrounding Van Cortlandt's parade grounds, Foliage seemed to find their brilliance in the second game. Facing Tall Tale, Foliage played a woman down on defense and still managed to steal the momentum in the first half and coast to a 3-point win. All this with an acting captain. That actor, Alex Becker, however, led 15% of the league's champions to their last finals win. We all remember The Adorables, right?
Broken Baggage sits down here, rotting in the last paragraph of The Latest. Tall Tale spoiled Broken's comeback when Jamie "Spoon" Lawler pulled in a monster layout D at 10 to 10 on the opposing goal line, and the Tale scored the next three to win it in cap. Then Broken lost 15 to 7, tying their worst loss of the season, against Double Take. To their credit, their average margin is only -2.9, which means they play some seriously close games considering the two 8-point blowouts. This may suggest a momentum swing that Broken is giving up, probably late in their games. Are they using all their timeouts? Could they sub smarter? Whatever it is, on paper this is not a 1-7 team. Broken Baggage can turn it around next week as they face Space Team and Foliage, two teams directly above them in the standings.
---
Christopher Columbus gets nostalgic in Week Four
11 October | MUD Headquarters
Hey Inwood. Remember us? My goodness, our ankles, showers, and never-white-again socks remember you. By the time the weekend was over, Skittles was in the WW Club, Double Take was shaking the doors, clearly locked inside the LL Club, and MUD had finished its 670th game on those short, dusty, lopsided canals we lovingly call Inwood. What terrible, horrible fun. You can see why we keep coming back.
Karina Ray got her groove back as her Skittles took down Double Take and busted up the league's punching bag, Broken Baggage. Double went down 15 to 10, and Broken fell 15 to 7. Skittles rode the wins into second place and celebrated, ordering Six Cycles all night and toasting the Nina, the Pinta and, of course, Ray's own favorite, the Santa Maria.
Space Team started its weekend by spoiling Tall Tale's chance for a league trick and their premature hope of an undefeated season. Well preserved, Travis. Space won 15 to 12. They couldn't keep it going against Foliage though, who seem to have Space's number. Foliage got their second win of the season, and against the only team they've beaten. The score was 15 to 8.
Broken Baggage, despite the loss to Skittles, actually counted the weekend as a success. At long last they got their first win against a sleeping Foliage. The game ended 14 to 9, and things started coming together for rookie-heavy Broken. Coming up, they've got Tall Tale who they took to universe in Week One, and Double Take, who they've hardly had a full game against yet. We'll see, huh?
Speaking of Tall Tale and Double Take. The final game of the day was Tall Tale vs. a mix of MUD players representing a forfeited Double Take team. We're all thinking it. Shame. Terrible, horrible shame. See you in Week Five!
---
No Games in Week Three. Is it Even Raining?
3 October | MUD Headquarters
The field is a soggy mess this weekend. Games are off, but MUD's leadership is looking to make-up these games next weekend. Stay tuned.
---
You won or lost in Week Two
28 September | MUD Headquarters
Tall Tale barely left their VIP-room seats at the WW Club to roll over Foliage and Skittles as they scoffed at last week's mirage of parity. Foliage managed only three points in the first game. Foliage's core lefty handler, Josh Zukoff, blamed it on still early issues with chemistry, a few missing stars, and morning-after-prom tardy captains. Skittles managed eight points vs. Tall Tale and were also under-manned. Unfortunately for Skittles co-captain Sean, that game was his chance to have beaten Mateo ten times in a row. Now that would have been a tall tale! Incidentally, Evan Shulman sealed the second WW Club in a row for Tall Tale with a hammer catch for a score, and with win he officially became a Centurion. What a guy.
Space Team also put together a couple wins in Week Two, evening their record. At last, Captain Travis was on hand to command his dangerous squad to what he hopes is their drafted potential. He mentioned the wins felt good and that he is still undefeated this season. The astronauts gobbled up Skittles, winning 15 to 8. And then Space fractured Broken Baggage in a 15-12 win. With the dub dub weekend, Travis puts himself and just barely his canon-armed handler Steve Carpenter within reach of 100 total wins.
Double Take barely squeaked onto the all-wins stage on Saturday. Captain Frazer first faced off against his last season's co-captain John Sakon and star cutter Christine Thompson. Those two ditched the Fraze, got together to lead a team this fall, and are now both injured and prowling their sideline like lonely has-beens. Broken Baggage indeed. Double Take won their first game 9 to 7. They had it even harder in the second game against the mostly woken-up Foliage. That game went 12 to 11 in favor of the Take. Whew.
So Broken, Foliage, and Skittles drowned miserably all weekend. Broken can probably chalk it up to its captains being out of commission. Foliage just hasn't seemed to arrive yet. And we all know Sean will come up with plenty of excuses as to why his and Karina's Skittles faltered in Week Two. With rain coming throughout Week Three, those teams might have some time to remember or work out where wins come from.
---
New Faces and Old Rivalries Get Set Up in Week One
21 September | MUD Headquarters
36 rookies (not all of them present) met 97 Comp League veterans this weekend of which, 61 are former League Champions, 20 are Centurions, 13 are reigning Fall-League Champs, 12 are recent Summer-League Champs, 7 are in their 20th or better season, and 2 are first-time captains. Those new captains, Karina Ray and Christine Thompson currently sit at opposite ends of the early standings. But no worries, Thompson. In 24 seasons, we haven't seen anything as tight as this opening weekend.
Saturday saw the most average points per game scored in an opening week/weekend of any season in comp league history (13.5), and only one game went to universe point. When these teams were drafted, there were 22 rounds and then 5 fairly major trades; now we're left with what seems to be parity. Or at least great competition. 18-season vet Mark DQ said these teams "are all stacked. The talent is way better than in the summer." Looks like we picked the right rookies.
At the top of the leaderboard, Ray's Skittles, which she co-captains with reigning Fall League and Summer League Champ Captain Sean Petterson, had the best weekend. They managed to go +5 in their WW Club effort. Petterson noted that Skittles' zone got way too many turns against Foliage. Bohao Liu made several incredible catches, including one where Broken Baggage's Malcolm Decked him on a long up-the-line pass. Matt Wiener had a ton of skies, naturally. Josh Mandell made his return to ultimate after a foot surgery. Jessie Rosenqvist made a bunch of nice deep cuts, including one that Wiener thew to end the first half vs. Broken Baggage. And Mike Valdez, who lost his baggage to other commitments, had a nice hand block on a famous lefty.
Mateo's Tall Tale also put together two close wins. This was a big-time opening for our league's most-seasoned captain. Despite what is perhaps the MUD myth that Mateo's teams tend to win, the 24-season vet hasn't started with back-to-back wins since Spring 2014. Tall Tale's wins suggest a rekindling of what had been a bit of a rivalry between Mateo and Sean also since Spring 2014. They met in the finals in all three seasons that year. This weekend, Tall Tale's Jan Vanous played like a folk hero. The rookie grabbed a bunch of Ds and skys and caught the universe-winning point against Broken Baggage. Another comp rookie, Kelsey McDermott had a sweet end-zone D followed by a scoring sky against Double Take. Maggie Mead, the only mother in the league, represented her first-round draft status with zero turnovers, a honey score, and several bailouts of her teammates in the two games marking her official return to the league. And Mateo set an example for his nine-month old, sideline-snoozing son by scoring a callahan against Double.
Josie and Orion's Foliage are anticipating some lovely autumn views, fewer cross-country interruptions, and the hopeful return of Stephen LaRosa who dislocated his collarbone on a skying D in the end zone to save the point against Space Team. (He is rumored to be out for at least 4 weeks.) Foliage went 1-1 on the weekend, but managed a positive differential. They gave up the first two points against Space, and then blanked Space with eight in a row to take half. Space Team tightened it up in the second half although Foliage came out on top. The wind picked up in the game against Skittles, and, as mentioned above, turnovers tallied into the double digits. Orion mentioned that the numerous captains deciding to throw zone "certainly makes it feel like fall."
Double Take, with Frazer at the helm for the 12th time, had a perfectly even weekend: a loss and a win, both at 15 to 13. Captain Frazer was pleased with his team's massive turnout (15-men, 5-women). Despite the wind, Double Take didn't have much trouble working it both up and down the field. Of note, Sarah Heffernan and Brianna Griffin couldn't stop getting open all day. Griffin actually bookended a play, getting a save-a-score D, and then going deep a few throws later for her own score. Unfortunately, Zach Phillis and Steve Kramer both suffered injuries, but they are expected to return next week.
Broken Baggage isn't quite at the bottom of the standings, but after the Lub Lub weekend, they've got some ground to make up. Thompson's co-captain John Sakon welcomes the rookie captain (whose played 6 seasons) into his 5th captainship. However, Thompson's injured knee has crept back up and may prevent her from playing for the next few weeks. She commented that she feels "like I can't be as vocal since I'm not on the field," but is encouraged by the veritable stable of young, fast rookies she and Sakon drafted. They have the most rookies at eight, and they all seem athletic, capable, and according to Thompson "just need to be coached into a flow." Their four-person smother zone was extremely effective against Tall Tale, and if not for a few fewer throwaways, it would have won the game for them. Aly Martori had a horizontal D against Skittles, and Sam Austin had two quick Ds that put Broken back in the game against Tall Tale. On the last point of the day, Sakon pulled and possibly tore his hamstring. He's out at least a week, putting both Broken captains on the sidelines.
Space Team surprisingly sits beneath the rest of the teams after the first weekend. Of course, the absence of captain Travis Rothbloom is the likely culprit for this first-week folly. Several stars showed up for Space, but the chemistry lacked without a leader. When Travis returns next week we'll get a sense of how his giant cutters are gelling with his big arm throwers, and how the Empire players might be able to help turn the team around. The good news is that the first time Travis helmed a team (in Spring 2014) he lost his first two games, but brought his team to the finals in the end.
---
Fall league is all life needs
18 September | MUD Headquarters
You're damn right Fall League starts tomorrow. You're damn right to be waking up in the middle of the night sweating with excitement. You're damn right to be in a constant state of jittery anticipation with love of the game weeping out of your pores. You're damn straight to have shaved half your face or only one leg, distracted by the glory of impending pleasure and fun you're about to be having every weekend until Thanksgiving. You're a woman; you're a man. You're finally experiencing the reality of your choosing, and it starts tomorrow.
---
Fall 2016, Summer 2016, Spring 2016
Fall 2015, Summer 2015, Spring 2015
Fall 2014, Summer 2014, Spring 2014
Fall 2013, Summer 2013, Spring 2013
Fall 2012