You're Welcome Wins, Smugly Thanks the League
16 November | MUD Headquarters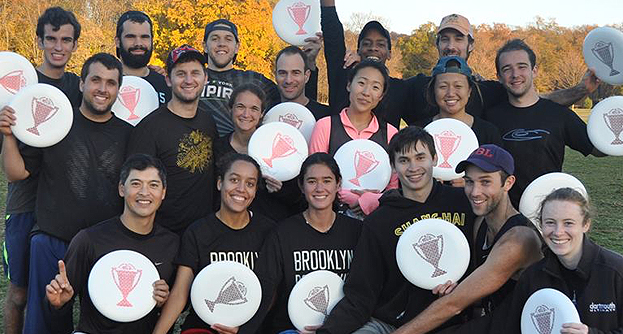 You're Welcome slid through their pool and then dominated the championship match over Cream Machine. The Machine did the opposite, decimating their pool and then falling apart in the champ game. Cream Machine veteran handler Alex Becker actually told The Latest he was worried "we'd have a team that would go super hard to make finals and then realize we hadn't prepared to actually play finals." Psychic.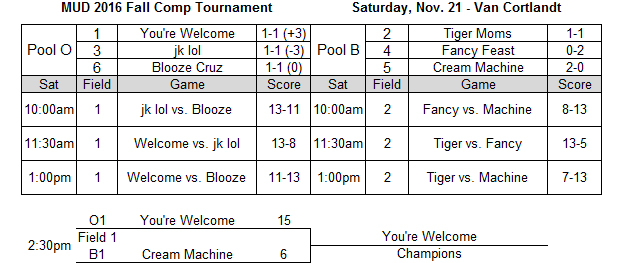 You're Welcome captain Mateo got his league-leading 9th championship with the win, and broke his fall-league curse. Chris Giblin and Taylor Brooks each got their 2nd in a row. Giblin is 3 for 4 now. Brooks is 2 for 2. Jake Walkup and Sandy Schaffa, finally got another win after 10 seasons. Jake has 4, and Sandy has 5. Steve Carpenter hadn't won since Sp13, and Alex Berzofsky had been without since Sp12. Joe Roza and Devin Erickson-Sheehy got their firsts ever, and they both started in 2010.
On the other sideline, Cream Machine, led by Liz Merritt and Brian Brockunier, represented the fifth time in COMP history that rookie captains have made finals. They joined the majority as only one of those five have succeeded. In addition to Becker's critique, Machine may have also had such a rough showing at finals because Merritt and big-man cutter Kevin Donlin had to go to the ER after Donlin suffered a shoulder injury in pool play. That said, all cylinders were firing for You're Welcome, and the Machine got shut off.
Congrats to You're Welcome and to all COMP League's players. This season has been called the most competitive ever, and our dear commissioners, Winston and Orion, still enabled us all to have fun.
---
Chris Nelson Breaks the 100 Barrier
8 October | MUD Headquarters
Chris Nelson made it a trifecta of Centurions for jk lol when his team got him his 100th win on Saturday. A regular first-round draftee since his debut in Sum10, and one of the few players who lives up to his "5-5-5″ self-ranking, it took Chris 186 games on 12 teams to get 100. He's brought home 3 championships in 6 finals appearances. Now that Chris is one of them, The Centurions are rejoicing almost as much as jk lol.
---
Andrew Weisman is 100 wins tall
24 September | MUD Headquarters
Andrew Weisman was all jolly and lol this weekend, when his team jk lol delivered his big win. Exactly one week after his teammate Steve Kramer got his gold jacket, Weisman was posing for pictures and signing autographs with the "100" after his name. Jk lol is Andrew's 13th team, and it took him 188 games to reach 100. Though his last MUD championship was way back in Sp14, Andrew has won twice in three appearances. The Centurions are quite excited to finally have a Weisman in the club, but they will have to extend the door frame so Andrew can actually get into the club.
---
Steve Kramer: Centurion At Long Last
17 September | MUD Headquarters
Steve Kramer has barely dipped a toe into this, his 15th season, and he's already a Centurion. Day one, game one, one point. Turns out that's all Kramer needed after 5 years of waiting. And man, did this league tease him for that 100th win. He needed 16 more wins with 16 to play in Sp16. He got 3. Sm16 had 27 games scheduled. Kramer needed 13 of them. He got 12. And he had 99 with five games remaining that summer: whoops! But he's golden now. Forever. Kramer has played his 15 seasons continuously, and he's had 15 different captains and co-captains. It took him 226 games to reach his 100th, but along the way he visited three finals and won it with a bunch of Strangers in Sm14. Let's see if he can win again with jk lol this season. Yeah baby.
---
Fall League, Welcome
16 September | MUD Headquarters
Who's there? Is that Fall League? Really? You're here? My word! How was the drive? How was your summer? Well, come on in. Dinner's ready!
Get some on September 17th. You've been ready for weeks, months, and for 32 of you, years. See you tomorrow.
---
Summer 2017, Spring 2017
Fall 2016, Summer 2016, Spring 2016
Fall 2015, Summer 2015, Spring 2015
Fall 2014, Summer 2014, Spring 2014
Fall 2013, Summer 2013, Spring 2013
Fall 2012