FINALS: EVERYONE LOVES A BBQ
22 May | MUD Headquarters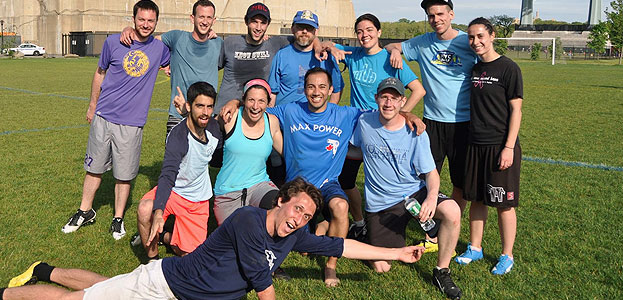 In anticipation of Memorial Day, Alex Becker and Mark DQ hosted a league wide BBQ and cooked and ate everyone. They started with The Chosen Ones, and keep in mind they lost this game. But seriously, where's the fun in winning your pool outright? Ask MTA how that worked out.
Against The Chosen Ones, BBQ was sluggish and rusty. It was 10am, but defending champs Sean Petterson and Karina Ray seemed amped to transcend their 5th seed and reach the finals. Chosen welcomed the second appearance of MUD rookie but New York legend Isaiah Bryant, a much-needed talent, considering that Matt Wiener was still on IR and his quick and suitable replacement Elias Kahan was dinged up and out as well. Ben Graf even showed up for Chosen, his first appearance of the season. Chosen played great and BBQ played like they had never seen their opponent before. The final was 13 to 9, Chosen.
In the other pool, MTA was having their way with bottom-seeded JAWS. The subway had beaten the shark all season. And round one was no different. Travis kept his team elevated and ran over Josie and Werblin's fish out of water, 13 to 8.
BBQ next met the top-seeded Rejects. Undeferential, determined, and undeterred, BBQ came out smoking hot. Mateo's The Rejects lacked everywhere. Throws were off, cuts were shut down, and soon confidence waned. It wasn't until the second half that The Rejects scored two in a row. And then only once. BBQ sealed it, 13 to 7, putting themselves up by two points in the pool.
MTA now faced the second-seeded wooloohooshoo. Sakon and EGrad's team suffered a first-round bye fate similar to The Rejects. MTA was still accelerating from their first victory, and WLHS was loitering on the tracks like a bunch of high schoolers. Smash! MTA's Ryan Drost and Devin Erickson-Sheehy were unstoppable. Amy Jin and Sherry Li were unyielding, and MTA's 13-9 victory was inevitable. Bring the finals.
Meanwhile, all was unsettled elsewhere. BBQ tensely prowled the sideline as The Chosen Ones and The Rejects played the last consequential game. A Chosen victory would send Sean and Karina back to the finals (Petterson and Wiener were actually vying for a record 7th consecutive finals appearance). The Rejects had a shot at it too, but they had to win by 8. BBQ would advance with anything in-between. Chosen started with purpose and despite losing Bryant to club tryouts, they went up 4-1. BBQ started to sweat. Timeout. The Rejects knew if Chosen scored 6 points, it was over. In their huddle, Rejects announced it was universe purgatory: the score was really 12 to 1 in their minds, but they took the field believing they had a chance. The Rejects scored the next 8 in a row. BBQ started to panic. Chosen at last made it 9 to 5. And a few points later, BBQ sighed when Chosen made it 10 to 6. Sean admitted he was hoping The Rejects would just roll over after Chosen scored the 6th point, but it was not to be. The Rejects won it 13 to 8 and sent BBQ to meet MTA in the finals, the first finals to not feature Mateo and or Sean in two years.
The Finals was really a battle of the benches. The top players on each team neutralized each other. Jan Vanous described his experience being guarded by Ryan Drost as "in a box." Drost, after an AUDL game (the day before), two MUD pool games, and club tryouts, was a bit like the B train: reliable, but not so much on Sunday evening (also, running local). BBQ scored early and often, and never surrendered the lead. In a clever captaining move, BBQ asked Chris Giblin to cut instead of throw cross-field hammers. Giblin pulled down 8 scores. Aly Martori and Danny Siegel made their marks as well; both playing some of the best ultimate seen this season. The final was 15 to 10. And it was the first time a four seed won the whole thing.
Congrats to BBQ and to all. Including the 17-16 consolation game between WLHS and JAWS on Sunday, we officially played 1323 points in 75 games at 6 locations in 2 1/2 boroughs this spring. That's a job well done. And speaking of good work, Orion Burt just finished his first season as commissioner. We all owe him and Commissioner Suntaree a warm handshake. Surely they'll settle for a cold drink at the bar. After that, summer.
---
W8: A Forfeited Finale
20 May | MUD Headquarters
Three teams bagged the last weekend of the regular season, preferring the beach, a cracked bell, or perhaps a lover's embrace. WLHS gave up a chance at first place. BBQ gave up a shot at third. And JAWS sunk deeper into the cement that is last place. In the one Sunday game that was played, Chosen rocked a depleted MTA, 15 to 6.
The seeds weren't officially set until Tuesday night. All but the 4th and 5th seed had been determined. BBQ (the 4th seed) had defeated The Rejects (the 1st seed) at universe point on Monday. But when The Chosen Ones (the 5th seed) lost to wooloohooshoo (the 2nd seed) on Tuesday, 15 to 10, they also lost their chance at snatching 4th place. BBQ sealed the deal with a 15-11 defeat of MTA (the 3rd seed) on Thursday, and WLHS harpooned JAWS (the 6th seed), 15 to 11, in the season's last game.
That last game lacked consequence for both teams involved. However, WLHS's Kevin Hsu needed the win become the final member of the Spring 2016 Centurion class. Yes, Baywatch hit 100. Kevin reached the milestone after 219 games and all of 14 seasons. A frequent top draft pick, Kevin had to wait 12 seasons before winning a MUD championship. Kevin is also perhaps the league's most journeyed player. He's had 16 different captains over his MUD career. And rumor has it this new Centurion is setting a course to lead his own team in the Summer. The league should be so lucky.
Hey all, bring your mom to finals. It's this Sunday: May 22. You can introduce her to Baywatch!
---
W7: It's Mother's Day
14 May | MUD Headquarters
After rain prevented all but two games in Week Six, a league's worth of mothers made havoc of attendance on Week Seven Sunday. Ironically, the league's only mother, Maggie Mead, led her team, The Rejects, to victory over MTA in the league's only Sunday game. Rejects never surrendered the lead in the holiday bout, though MTA, through Jacob Anderson's defense, got close in the second half. Despite having most of their first string, The Rejects barely pulled it out. This was the second game in a row in which The Rejects essentially gave away the momentum in the 2nd half. Are things getting shakey at the top?
WLHS seemed to think so. On Friday, WooShoo invited The Rejects to a tiny turf field on Amsterdam and 102nd that is impervious to rain. The Rejects, however, were not. According to Steve Estes, his Rejects started with "lots of slippery-disc drops." Estes noted "we'd regained our focus by the end, but had dug ourselves too deep a hole." WLHS won 15 to 10.
Chosen and MTA went 1-1 during the week. Chosen beat JAWS 15 to 11, and MTA beat Chosen when Chosen didn't show on Thursday. MTA's loss came by way of BBQ, who has now won four out of their last five. About the victory over MTA, BBQ co-captain Mark DQ said "Steve Carpenter played exceptionally well with some ridic pinpoint hucks. The commish emeritus had an enormous layout D in the endzone. Jan Vanous skied everyone. Laura Cella had a couple beautiful up-line flicks for scores, and a hobbled DQ finally returned to the field, playing solidly mediocre." BBQ won 15 to 11.
Let's hope our mothers will let us out to play next Sunday!
---
Schedule Change
3 May | MUD Headquarters
Please note: the schedule for the last two weeks has changed. For every team!
---
Week Six: Sunday Rain, Standings Summary
1 May | MUD Headquarters
Week Six Sunday was rained out, though two fields had been set up at Inwood. Apparently teams were content with their rankings. That's surprising considering every standings-change except for a top to bottom swap is still possible. But let's do a quick break down.
The Rejects (12-2) hold the top spot and have beaten every other team at least twice. Their past four games have been bell ringers, putting up 59 points to the 24 of their four different opponents. Granted, these giant wins have had a lot to do with attendance, but The Rejects seem to be the here out favorites. (Avg PPG 13.1, Avg Margin 4.1)
wooloohooshoo (8-5) has settled into an uneasy second place. They've gone 1-3 over their last four, and are just one game ahead of MTA. They've beaten every team but their first place rivals, but they'll get two more chances. If they can fend off MTA and get a few more wins, 2nd is theirs. If some of those wins are against The Rejects, first isn't out of the question. (Avg PPG 11.6, Avg Margin 1.8)
MTA (7-6) has been a bit streaky. Their most recent two wins put a stop to three losses and gave them a winning record, third place, and a shot at the top. Three cancelations in a row may have smote their momentum, but they will certainly regain it with two wins this Sunday. They play the two teams aforementioned. (Avg PPG 11.6, Avg Margin 0.2)
The Chosen Ones (5-8), as discussed previously, are struggling. They've dropped six of the last seven. The good news is they've beaten every team but wooshoo. The bad news is their most recent losses were to BBQ and JAWS, and now those two teams are only one and two games respectively behind Chosen. (Avg PPG 10.6, Avg Margin -1.5)
BBQ (4-7) has almost half their season remaining. They're in fifth place, but they doubled their win count in W5 Sunday, and can blame most losses on lack of attendance. We might see a different BBQ over the next two and a half weeks. With a little help, they could easily get to the top half. (Avg PPG 10.9, Avg Margin -2.0)
JAWS (3-11) enters the remainder of the season on a good note: their biggest win of the season. Opponents have been remarking confoundedly about JAWS all season: "That team should be good." "They've got all the right pieces." It's a long shot, and a winning record is not possible, but building on their win is a must for the shark. Their schedule is favorable. Their next games go back and forth against the two teams they most recently beat, and it happens to be the two just above them. (Avg PPG 9.6, Avg Margin -2.9)
Sure, somebody's got to be the loser, but this is Comp League. Everybody should assume they'll be the winner. Go get it.
---
Week Five: Dubs, Tricks, Record 100s
29 April | MUD Headquarters
The WW Club was cramped on W5 Sunday, and one of the VIPs was a surprise. BBQ put two wins together for the first time all season, and on the same day! First they took down The Chosen Ones, 15 to 13, and then they survived against WLHS despite a dropped pull at universe point. Whew. Dance all night BBQ, and say hey to The Rejects!
Up at Inwood, Reject Anna Meyendorff noted that Mom and Dad (Maggie and Mateo) weren't around, and so Meyendorff insisted The Rejects party all over the MTA, 15 to 10. When Dad showed up for the second game vs. JAWS, a "don't tell Mom policy" was put in place and The Rejects filleted the shark, 15 to 5.
On Tuesday, after surveying the weather all day, BBQ met The Rejects to see who could get the triple W. Captain DQ was injured and his BBQ had only a savage 4:3 line showing. Captain Mateo, in his relentless pursuit of a guaranteed winning record, played 5:2. BBQ's Jan Vanous had some pinpoint hucks, but ultimately couldn't beat the Reject zone. DQ reminded The Latest that he had claimed at the draft: "The only thing that will beat us this season will be attendance." Classic deflection. BBQ lost 14 to 5.
The game was actually The Rejects' eighth win in a row, and it gave the team Sp16's first league trick. More importantly, it was Phil Vlahakis's 100th win in this league. The new Centurion took 182 games to get gold, and The Rejects is Phil's 12th team. He got 80 of his 100 with his current captain, and won two of the four finals he's been to in the same company. Can they go all the way this season? They're in first place by a mile.
JAWS took a huge bite out of The Chosen Ones on Wednesday, winning 15 to 6. The win officially prevented JAWS from suffering the worst differential ever. Reynaldo and the Clouds can hang on to that for a while longer. Meanwhile, Chosen is in a tailspin. Wednesday was their fourth loss in a row. Their only win in the last seven games was at universe point. Co-captain Karina should be held responsible. Her other half is stuck mourning his lost baggage. Get it going girl.
Thursday was big time. MTA and WLHS played the third game of their five-game weekday series in which WLHS is up 2-0. MTA got one back in the series, winning the game 15 to 11. According to Captain Travis, "Steve Carpenter had a nice huck to Ryan Drost, finally finding a cutter he can't overthrow. Carpenter also had a poach layout D on our goal line right after I told him not to poach. Other than that, it was a boring spectator game as the MTA went into local-stops mode due to zone construction by wooloohooshoo. There were some attempts to bypass stations and go express, but those just resulted in more train delays. So we stuck to the semi-ironically named Fast Track plan and worked our way to our final stop of 15th St., leaving WLHS behind at 11th St., stuck in signal malfunctions." One thing spectators saw was LooLoo co-captain Sakon skying Isaac Saul on D and then catching his co-captain Emily Grad's huck over Saul in the loss.
Another thing the spectators witnessed was Steve Carpenter's stunning awakening as a Centurion. The big guy now holds the title of fastest to 100 wins. He got there in his 10th season, which is the fewest ever. And it took him only 148 games (the previous record was 155 by Carolyn Louth). Carpenter has been to the finals three times and won twice. He hasn't been back since that last win in Sp13 with The Funeral, which named its championship-winning "Steve Defense" after the new Centurion. Steve also carries an impressive 67.57% win-percentage, which is second best among all 45 Centurions.
Goodness, Steve. Save some for the rest of us. Get your big Week Six match-ups, here!
---
Week Four: 1st Place Battle and Shame Avoidance
23 April | MUD Headquarters
Monday night saw the continuation of week four and a showdown between The Rejects and wooloohooshoo for mid-season first place. Despite Reject Malcolm Deck's callahan in the first half, WooShoo had the lead and control of the game throughout. At 11 to 7, the captains agreed that soft cap was on: game over in ten minutes. Then as LooLoo's momentum crumbled, The Rejects captured the next four points to force universe. And then rookie standout Dan Wekstein got a layout D and The Rejects stole first place.
On Tuesday, JAWS narrowly managed to dodge the infamy of worst streak ever by defeating BBQ 15 to 12. This slightly legitimizes JAWS's bid for not last place, and it puts BBQ squarely as their rivals in that quest. Believe it or not, 2-9 JAWS could still end up with a winning record. They'll have to basically win out to do it, and they'll need those top draft picks to show up and quit being the great mistake of 2016 for their captains.
HooHoo rebounded on Thursday, getting that 8th win against the suddenly slow MTA. Shoo co-captain Sakon slapped a handblock on Ryan Drost, the league's Patrick Ewing. HooLoo actually got two other handblocks from honey baggage Liz Lee and David Willis. Not to be outdone, even in the loss, MTA captain Travis showed off his new Centurion glory, getting a deep D on Sakon and then scoring the bookend. Regardless, ShooHoo won 11 to 8.
The Chosen Ones were forced to play The Rejects on Passover Friday. They got flattened. To be fair, The Rejects had a full line and played 5:2. Chosen started the game 3:4, and eventually they picked up BBQ co-captain DQ to put out savage 4:3 lines and to calm the anxious co-captain Sean. In the 15 to 5 win, The Rejects dominated with zone D and deep offense. After the game, Reject Maggie Mead was asked about her numerous deep scores. "I just waited until a thrower got it. Then I looked at my mark and thought, well…see you later."
Boom! The Latest gets a new catch phrase. C'mon Sunday.
---
Week Four: Sunday, Inwood, Centurion #1
17 April | MUD Headquarters
After a year, Comp League finally returned to Inwood. The event was marked with minimal fanfare, but as BBQ co-captain DQ said, "A field is a field." In Sunday's round-robin at Manhattan's northern tip, no team got their footing and each won and lost.
Sunday started off quite well for Captain Travis Rothbloom. MTA's 15-11 victory over BBQ was Travis's 100th in the league. The new Centurion, now in his 14th season and 6th as a captain, had to notch 211 games to reach the monster milestone. As a first-time captain in Sp14, Travis brought his team to the finals. But more impressively, as a sophomore captain in Sm14, Travis led I Barely Know Her to a 14-0 undefeated regular season, the first and only in MUD's history.
After the big win on Sunday, Travis took off according to witnesses, and MTA ground to a halt against The Chosen Ones. They lost on universe point. Chosen couldn't keep it going though. BBQ roasted Chosen, 15 to 12, with Aly Martori doing most of the heavy lifting, slathering the endzones with deep catch after deep catch.
Riverside Sunday featured last-place JAWS in a double-header vs. The Rejects and then HooShoo, the two teams tied for 1st place. Despite the two games and the shining sun, the shark's roster mostly chose to be elsewhere, leaving a savage version of the team to fend off the dangerous opponents. The games went as expected, though JAWS had an excellent showing against The Rejects and only lost by two. LooHoo dispatched Great White 15 to 8, setting up a Monday night battle for outright first. JAWS, on the other hand, has now lost 9 straight. 10 is the record, the one that's stood since F12, the record you really don't want. Maybe the missing sharks will show up vs. BBQ on Tuesday. C'mon Josie, legacy is at stake.
---
Week Three: Bronx, Licked, Wiener Out, Riverside
16 April | MUD Headquarters
Three weeks are in the books, and goodness, we've been all over the place. Call us the Metropolitan Ultimate Disc League. Sp16's third week started in the Bronx. And though the Van Cortlandt fields were wonderful, the week began shamefully for one team. JAWS, in their 7-15 loss to ShooHoo, were made to bear a league licking. (For you 31 rookies, that's losing to every other team, one after the other.) Meanwhile, Chosen grabbed their third win in a row against BBQ, 15 to 8, and MTA went express against The Rejects, stealing the momentum to win 14 to 10. These results temporarily put Chosen and Reject one game back of HooWoo for first place.

Matt Wiener at the hospital in an air cast. Also pictured are the lower halves of his parents.
Of course the big news of Week Three was a body part. Indeed, one of two people in the league who have a chance at a league-record 7 consecutive finals-appearances, Matt Wiener of The Chosen Ones, is out for the season with a high-ankle sprain. Wiener was playing with NY Empire when "some dude from Ottawa layed out" into the back of Wiener's legs. Chosen has picked up rookie Elias Kahan from the waitlist.
The big guy was missed in The Chosen Ones' next game, a bid for first place vs. WooLoo. In their third meeting already this season, Chosen lost 12 to 15.
MTA put the second W together vs. BBQ, 15 to 11. And The Rejects tied a nice 1-1 bow on the weekend with a 15-11 defeat of JAWS, the shark's sixth consecutive loss.
The 72nd St. Riverside Park debut was rained out on Tuesday, which robbed BBQ of another game. LooHoo lost the game as well, so both teams should start looking at Makeup Mondays.
On Wednesday, a mile away from any reasonable public transportation, on the East River, MTA swiped a win against JAWS, 14 to 9. The win put MTA captain Travis on the Centurions' doorstep, 99 in his MUD career.
Finally, we graced the earth of Riverside72 on Thursday of W3. The Chosen Ones met The Rejects again, but this time both teams were struggling for numbers. The Rejects took advantage of the opportunity to move into a tie for first. They whooped The Chosen Ones 15 to 8 while snuffing out the struggling sprigs of sand grass. Two more romps should return that field to its charming west-side dustbowl state. May the dirt begin circling the shower drain. Mud!
---
The Centurion Candidate
16 April | MUD Headquarters

Scandal has besieged the league. Faintly, but by no means silently, Andy Eklund is knocking on the door to the Centurions' Club. He, like the eight candidates profiled in the previous post, has a chance to gain entrance to MUD's milestone club of 100-game winners. But how close is Andy? That all depends on how you interpret Summer 2015.
As is well known, in summer of 2015 Andy accepted the stewardship of a team drafted by Commissioner Suntaree. He named the team Dessert, and won his first game. After losing the second, Andy abdicated the captain hat to A. Werblin and deserted Dessert and the league for "a job offer irresponsible to turn down." His vacated roster spot was filled four days later.
Dessert went on to be Wet Hot Pink American Summer which went on to finish the season 5-9. These five wins and nine losses are currently part of Andy Eklund's MUD record. The five wins mean Andy currently has 91 wins.
Without Wet Hot Pink's record, Andy would be at 86 wins and, like Kelsey Brooks, would need to win all but one of his remaining games with his team, MTA, to get 100 wins. And if he accomplished that, it would end Kelsey's bid and likely disturb the other seven candidates. No shame: comp league.
So what do we think? He's got a chance either way: slim and slimmer, but there. Vote below.
Whatever happens, Andy, in his 15th season, will have to ride the momentum of the other, much closer candidates on his team. In the case of "yes," he needs MTA to get 9 of the last 15. Only thrice has Andy been on a team that's won nine times, and, ignominiously, only once (five years ago) has Andy been on a team that's played at or above 60% (which will be required from here out for him to hit 100). In the case of "no," he needs 14 of 15. Only one team in MUD's 173-team history has won 14 in a row before, and it was captained by Andy's current captain.
Good luck, killer. Hope this doesn't jinx it.
---
Spring 2016 Centurion Watch
15 April | MUD Headquarters
It's early Spring of 2016 and we're poised to induct the largest class of Centurions ever in one season. In the Spring of 2013, 9 players became Centurions. This season we've got 11 eligible.
Whoops! Cancel that. It's week three now, and, at best, we'll be one behind the record.* Good night Zukoff and Kramer, and hopefully not, but probably Brooks.
Let's break it down.
Travis Rothbloom, captain of the finely-drafted MTA and answer to several unpropitious MUD trivia questions, leads our list with 99 wins. He's in his 14th season and 6th as a captain. One more win with the Transit Authority and he's first ballot. How about Sunday?
Steven Carpenter has a chance at massive glory. He's just starting his 10th season (only one of them a losing season), and he's got 97 wins. If Steve (also with MTA) wins 3 out of the next 12, he'll be the fastest to 100 in MUD history (154). MTA has 15 games remaining; blow it out of the water, Carpenter.
Kevin Hsu sits at 94 wins. He's is a namesake of his 14th MUD team, and Wooloohooshoo has 14 games left. Interestingly, even if Woohoo plays the rest of this season at Kevin's disreputable win percentage, ol' Baywatch will exactly get to 100 by the season's end. Considering that he waited 13 seasons for his first finals' victory, the 21 in-league Centurions believe the candidate is a shoo-in for this season.
Philip Vlahakis is also at 94 wins. His team The Rejects can fill Phil up with 14 games remaining. Vlahakis has used his current captain for 80% of his wins so far. Seems like a pretty good bet he'll get there in this, his 12th season.
Benjamin Graf plans to walk all the way to 100 wins this spring. At 93, he needs to win the majority of The Chosen One's remaining 13 games. In his 11th season, Big Ben can still rely on his arm to steer his way to a gold jacket. Some say he's in a covenant with the Centurions.
Karina Ray has a shot at Steve Carpenter's glory. Ms. Ray spent her first captaining gig winning finals (last season); perhaps she can lead her sophomore effort with The Chosen Ones to this personal excellence. Ray has 92 wins and needs to win 8 of the next 11 to get there fastest (assuming Carpenter slows way down). Also in her 10th season, Karina has beaten Carpenter once this season and will have a chance to stall him again this Sunday. But she and her co-captain need to quit these 1-1 weekends.
Alex Becker still has a decent shot, but he's the last of the likelys. He's at 91 wins with 16 games to play. He and his co-captain need to fire up the BBQ and get cooking this season. Becker's win percentage is 53%. That won't cut it for 9 of 16 more games. But the man has been a first round pick in all 12 seasons he's played. So let's see it, Alex.
It's gonna be quite a trick for Kelsey Brooks (87) to pull it off this season, her 14th. She needs her team, Woohoo, to win all but one of its remaining 14 games. The good news is that six of Kelsey's teammates, including both of her captains, have been on teams that have put together the sort of record Kelsey needs (I Barely Know Her and Toast). The better news is that even if Kelsey gets all her wins, all of the above can still become Centurions.
That's right the 100 Club are rooting for every team except JAWS this season. But that's ok, the big shark's got three big sharks already: their captain, the league founder, and MUD's own dramatis personae whose also got two finals and one finale under her press badge.
*There's a small controversy concerning a possible ninth Centurion this season. A separate, participatory post will discuss that individual's circumstance.
---
Week Two: Wind and Rain
7 April | MUD Headquarters
Back at Randall's for Week Two Sunday, gale force winds besieged the fields. Chosen Ones co-captain Sean wondered aloud if games should even be played. MTA conductor Travis debated whether or not pulls would be ridiculous. Eventually, The Chosen Ones and The Rejects proved their mastery of the wind (and the turf) as both went win-win. MTA fell to both, despite having most of its top line in attendance. Chosen also swam past JAWS, 9 to 7, and The Rejects scored nine in a row in their 12-9 route of ShooWoo. Earlier, HooLoo licked BBQ, 10 to 8, who then slaughtered JAWS, 11 to 5.
East River hosted just one weekday game in W2 due to rain and permit availability. On Wednesday, LooWoo solidified their winning record, jumping the turnstile on MTA. It was 9 to 5.
---
Week One: Randall's and East River
2 April | MUD Headquarters
MUD 2016: we have begun. Just who are we? There are 130 of us on six teams. 31 are first-timers; 31 others have played the past five seasons. 18 of those have played the past 10 seasons, and 2 of those have played all 25 seasons. 21 of us are Centurions. 13 are returning champions. And among the teams, 5 men and 2 women played in MUD's first ever season back in spring 2008. Can you name them? Clue: at least one of them is on your team unless you're Chosen.
Randall's Island hosted the league's first Sunday games, and right away things seemed balanced. Sure, MTA and BBQ didn't send rosters to the season's short-notice opening games, but the other four teams each went 1-1. In the very first games, JAWS bit off a narrow win against WooLooHooShoo, 10 to 9, and The Chosen Ones scored the last point despite a 6-0 run to force universe by The Rejects. Though he lost, Reject captain Mateo said, "That comeback may have set the tone for our season." In the next round, WooHoo and The Rejects won battles of attrition against Chosen and JAWS, respectively.
Next we went to the Lower East Side. The first week's weekday games were held exclusively at East River Park. Chosen and LooShoo met again on Monday and suffered the daylight situation of a pre-April Week One. WooShoo managed a 9 to 6 victory.
On Wednesday, BBQ met each other at last vs. The Rejects. First-game excitement brought a few too many out for BBQ, which left them struggling to find chemistry and momentum. The Rejects impressively put up 14 points as the sun set in a five-point win.
On Friday, MTA unveiled itself with authority, handing JAWS its second loss at 12 to 7.
---
Comp League Turns 25, Begins its Spring March
24 March | MUD Headquarters
MUD is about to start flying. And for the first time in 25 seasons, we're cleating up in March. Can you believe this is actually happening? Wake. Up. Hibernation is over you big bear. Ultimate is back. Teams are drafted, and we roll into this elongated spring season this Sunday: Randall's Island.
---
Summer 2017, Spring 2017
Fall 2016, Summer 2016, Spring 2016
Fall 2015, Summer 2015, Spring 2015
Fall 2014, Summer 2014, Spring 2014
Fall 2013, Summer 2013, Spring 2013
Fall 2012