Field Directions
Riverside Park – (RIV)

We play WEEKDAY and WEEKEND games at the southern end of Riverside Park. The closest subway is the 1,2,3-Trains (72nd street), slightly further are the B,C-Trains (72nd street). Walk west from those stations towards the river, go into the park and through a tunnel. Go down the stairs, take a left (go south) and walk along the river. There should be a fenced-off field immediately to your left. ONLY TURF SHOES or SNEAKERS are allowed on this field. You can see examples of acceptable/unacceptable turf shoes here.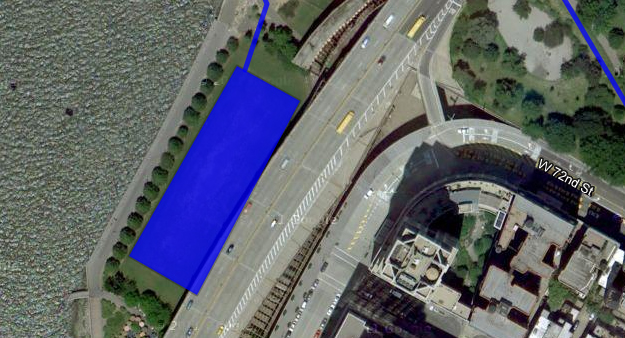 Van Cortlandt Park – (VCP)

We play WEEKENDS on this grass field at Van Cortlandt's Parade Grounds. The best way to get here is to take the 1 train all the way to the north-bound end. You then have to walk further north to the giant field.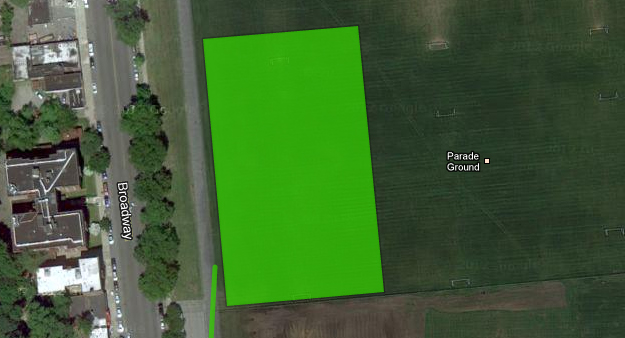 East River Park – (ERP)

We play WEDNESDAY games on this turf field on the Lower East Side. The best way to get here is to take the M14D bus. You can also take the L to 1st Ave, the F,V to 2nd Ave, or F,J,M,Z to Essex/Delancey Street, but its a bit of a hike. There is an overpass a bit south of E 6th Street that will take you over the FDR drive and to the field.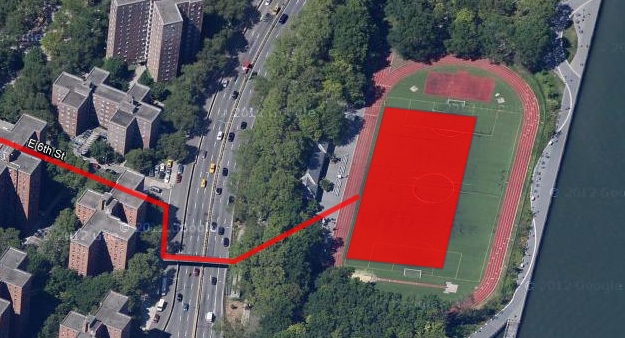 Randall's Island – (RAN)

Location of early Spring Comp games and Finals. Our schedule page usually lists RAN-1, RAN-2, RAN-3, or RAN-4; to be clear, these do not correspond to the actual field numbers but to the playing areas we designate on the fields we use (for example: our RAN-1 and RAN-2 might be the two halves of Randall's Island Field 85). When we play at Randall's your captains or the league will notify you of the official field numbers we will be using that week. As a general rule, most of these fields we use are on the southern tip. Note that there is no train directly to Randall's. The M35 bus (on 124th St.) or the pedestrian bridge (at the eastern most point of 103rd street) will get you there from Manhattan.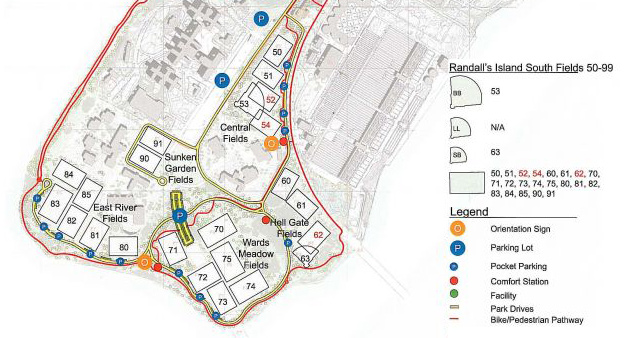 Inwood Park – (INW)

We play WEEKEND games at Inwood Park. It is on the northernmost tip of Manhattan, on the Northeast side of Inwood Hill Park (near Columbia University–Baker Field). The closest subways are the 1-Train (215th Street) and the A-Train (Inwood-207th Street, the final stop). If you're coming from the Upper East Side, the BXM1 express bus drops off right at 207th and Broadway, and can be faster than taking a cross-town bus and tranferring. This is a grass soccer-football field west of the softball fields and adjacent to W. 215 Street and Indian Road. If you're coming here on a weekend, please consult the MTA website for updates on subway and bus schedules.