As Season Ends, Rabble Champions Fall 2012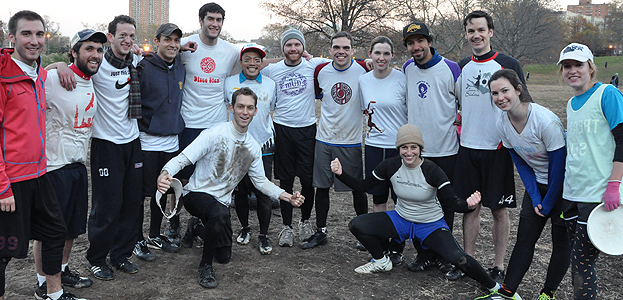 17 November | MUD Newsroom
It was a reckless affair. After winning by point differential in pool play, Rabble Rousers bathed in the support of the crowd, and eventually walked away with the big win. Their opponent, Dynasty, had become something of the enemy of the season, and a huge crowd gathered to cheer on their dynastic demise. The crowd certainly received its desired blood as Rabble edged Dynasty 15 to 13. Below, check out how it all went down.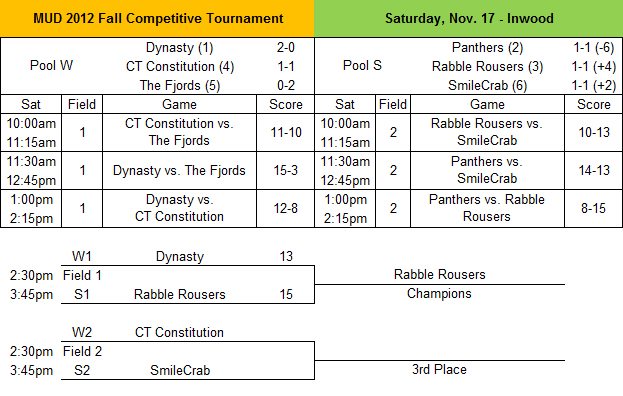 ---
WEEK EIGHT PLUS FINALS PREVIEW
16 November | MUD Newsroom
Teams emerge from Sandy, settle some scores, and set the standings.
---
Week Seven Drowns in Winds and Broken Limbs
4 November | MUD Newsroom
All of Inwood Hill Park, including the MUD fields, was closed due to damage and risks of more damage from Hurricane Sandy. Hurricane MUD will likely make land fall at an alternative location(s) next week.
---
Week Six Kicks Serious Ass
25 October | MUD Newsroom
SmileCrab invites infinite stares as the flash their newly-acquired WW membership cards. The Panthers beat all the teams. Dynasty and Rabble go up and down. Connecticut helps The Fjords mend some wounds, including pride. And MUD Labs investigates some established talents. NOTE: The Fjords got "league licked" in week six. They become the eighth team in MUD history to suffer an every-other-team losing streak. But they're joining familiar company. SmileCrab has already been licked twice by this Fall league. On the winning side, the Panthers' "league trick" is the tenth our competitive leagues have seen.
---
Week Five Can't Stop the Awesome
17 October | MUD Newsroom
W5 salutes Dynasty and Panthers at the WW Club; scowls as the Fjords and SmileCrab go Lub Lubbing; summons Eric Kuo out from studying; sets the stage for serious significance; and sends JB back in time.
---
Week Four Blows the lid off Greatness
7 October | MUD Newsroom
Panthers upset Dynasty. SmileCrab has a booth named after them at the LL CLub. Rabble gets a Dub Dub membership. And Jenny B stops by the studio. All of that and more in Week Four!
---
Week Three Smothers Itself in Excellence
30 September | MUD Newsroom
Dynasty and Panthers stare each other down at Da WW Club. SmileCrab tags Inwood in frustration. Owocki sets himself up for a contract renegotiation. And Winston calls a secret meeting. NOTE: In Week Four, Dynasty will try to tie Four Canaries' record, set in Fall 2008, of eight wins in a row to start a season. SmileCrab doesn't want to set the record for most straight losses out of the gate, and they can't this week either. Winston Tide of Summer 2009 began their season 0-9. Might as well not even try for it Crabs.
---
Weeks One and Two Explode with Fun
24 September | MUD Newsroom
Fall 2012 now has two weeks under its pumpkin belt. Welcome back to The Latest. **NOTE: The last "league trick" was accomplished by John and Jeannine's Hat Trick in Fall 2011, and the feat is named after that team. There have been eight such tricks in league history, and surprisingly they have not been exclusive to Fall leagues (when the schedule is much more allowing). The BeeGees did it in Summer 2011 and Von LeMeure pulled one off in 2011's spring season. Double Date got one in Fall 2010, right after webuygold.com picked one up that summer. Four Canaries and Six Pack both won consecutively in Fall 2008. In fact, Six Pack put together two league tricks during their history-making win streak of 12 in a row.
---
Teams are Drafted. The 15th Looms.
10 September | MUD Captain's Lounge
They showed up for the draft, they argued, they laughed, they left with monster teams. MUD's Fall captains are anxious to meet you.
---
Anticipation for Fall besieges MUD Headquarters
7 September | MUD Creative Dept.
While Johnny Broadcast dotes on Josh Kent, Christian and Stefan have trouble containing their jealousy and their excitement for September 15th.
5 September | MUD Web Development
Evan, Won, and the Dean stumble upon Johnny Broadcast who can barely quell the excitement for Fall's first Saturday: September 15th.
1 September | MUD Headquarters
Johnny Broadcast wanders into a break room where the wait for Fall League has become unbearable.
---
AUTUMN COMP ABOUT TO BLAZE ROUND THE CORNER
29 August | MUD Newsdesk
Watch your back comp leaguers. Fall 2012 is coming and it's hot. It'll be the end of MUD's fifth year; it'll be at Inwood every Saturday; it'll be the most intimate season yet. Get stoked for this fifth Fall fire. We ain't never going out.
---
Summer 2017, Spring 2017
Fall 2016, Summer 2016, Spring 2016
Fall 2015, Summer 2015, Spring 2015
Fall 2014, Summer 2014, Spring 2014
Fall 2013, Summer 2013, Spring 2013
Fall 2012