Maggie Mead's Miracle Read Wins Finals for Toast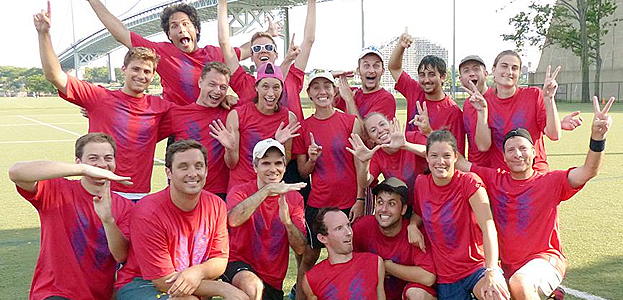 11 August | MUD Newsdesk
Actually, it was a simple read. The perfect, nearly full-field honey huck from Toast captain and Maggie's baggage, Mateo, sealed MUD's 17th championship for Toast. Their opponent, The Hunt, was captained by Christian Gaffney, and was the first team Christian has led to the finals. Christian was more than glad to be meeting Mateo, who was in the finals for his 10th time. Christian hadn't won a game against Mateo since Summer 2012, and he felt he and The Hunt were due.
Plus they were playing nasty. The Hunt had beaten an almost savage Anonymous 14 to 12 in their quarterfinal. Hunt Clark's more conservative throws and Kevin Owocki's key point blocks brought home that win. Then The Hunt masterfully upset LazerEggs who, despite missing some key starters, were quite confident going into the day, and especially after tearing apart The Scientific Method 15 to 3 in their quarterfinal. The Hunt stomped The Eggs 15 to 10.
Toast, meanwhile, had a dramatic, universe-point semifinal against ?!. Frazer's calves were cramping for most of the game, but his throws were still on. Mike Drost, Ivy Johnson, Jacob Anderson, and Stefan Loble kept getting open for them. But Toast had watched the Bangers upset Good Game 15 to 10 in the second quarterfinal, and when Toast could keep Drost out of the way they took advantage of the speedy turf on deep cuts, mostly to Jordan Rosefigura and Sarah Warner. At universe, Mateo threw the winning huck to his lone MUD rookie Alex Bromberg.
In the championship, never more than one point separated the two teams until Toast threw a surprise zone at 11 to 10. The zone caused a Hunt overthrow and Toast scored the only upwind point of the game. They scored the next point as well and the damage was done. Points were just traded until the Toast victory. The Hunt's Therese Zosel-Harper and Karina Ray, despite being savage all day, had some of the game's highlights. And John Sakon and Francis Giknis so fantastically bailed each other out on a couple ugly throws that their baggage should be a hot pick in next season's draft. Mateo and Maggie got their record sixth championship wins; twelve Toast players got their first including Sakon and Giknis, two rookies, and veteran Kevin Collier who started with MUD in Summer 2008. Jake Walkup won his third championship in a row and becomes the first MUD player to win three back to back to back.
But really, congrats to all players for having and making such a great time this season. Special thanks to Winston Suntaree for commissioning this league like a total badass. And additional thanks to John Kim for getting us all too drunk at the party. You owe most of us a Sunday, John, but we'll just take more shots next season. MUD!
---
An Historical look at Summer 2013 Finals

9 August | MUD Newsdesk
The Top Seed
That's 12-1 Toast this season. They scored an average of 14.3 points per game. That's only one tenth of a point of the record. Toast seems pretty good. However, in 16 seasons of MUD championships, the team going in as first seed has won only half the time. Granted, that top seed has gone to the finals all but four times. Mateo has led seven teams to top seeds, and ALL those teams have made the finals. When the top seed didn't win the finals (eight times), the third seed won 50% of the time.
The Second Seed
LazerEggs went 12-2 this season. They won nine games in a row, and actually only lost to one team all season. Only two second seeds have won the finals, but, statistically, we've never seen a second seed quite like this. LazerEggs has the best win percentage and the highest average margin of victory of any second seed. And let's not forget that Alex Schneider went to the finals in his first two seasons as captain, and won the second time. However, with Katherine Cole on board as co-captain, he's only ever been the bottom seed going into the tournament. Obviously, this is LazerEggs', and KCole's chance to blow assumptions out of here.
The Third Seed
The good news for Bob is that plenty of three seeds have won the finals. Four actually, and Bob was a member of three of them. In fact, Bob's only championship victories have come with the third seed. Unfortunately for 6-8 Good Game, they are the statistically worst three seed to ever enter the tournament, and, as captain, Bob has never won a finals. That said, he did lead his first commission (in Summer 2011) to the championship game. Good Game's first game tomorrow is against ?!. GG just lost to the Bangers on Wednesday, and Bob's lifetime MUD record against Frazer is 12-22. Perhaps it will be good that Bob can't make it tomorrow. The Game has a chance to make a particular kind of history without him considering that a team without an attending captain has never won finals.
The Fourth Seed
The Hunt (6-8) joins the party in their usual place. Christian and BKap have been captains for the past four seasons and have led each of those teams to a fourth or tied for fourth seed. They've never made the finals, but they've won their quarterfinal or pool play match up three out of four times. The Hunt's first game is against Becker's Anonymous who The Hunt has exclusively beaten this season, twice. Perhaps relevantly, no four seed has ever won the finals. In fact, only one has even played in the champ game.
The Fifth Seed
No fifth seed has ever won the finals either. And like the fourth seeds, only one has had a chance. Does 5-9 Anonymous and their freshman captain Becker have a chance? Well, they play The Hunt at 9:30am, and, as was mentioned, they lost badly to them in both their matches this season. But Becker's general record against Christian and BKap is 9-3. Anonymous ranks lowly among the fifth seeds we've seen in MUD's history, yet three of their losses were forfeits. If this team shows up, they have shown that they are capable of an 11 point victory. Though it's the morning game, the four/five match might be the quarterfinal to watch.
The Sixth Seed
Frazer and Jeannine have brought 4-9 ?! to a regrettable position. With attendance issues all season, they've struggled to figure themselves out. They play Good Game again in their quarterfinal, which may be the best match up for them. As the sixth seed they've guaranteed themselves a most difficult ride. However, the last time Frazer was the sixth seed (with Reverse Predators), he blew through the playoffs and walked off with a championship. And statistically, that team was one-loss worse than ?!. Jeannine just won spring finals with The Funeral. She's definitely itching for more, and it might take more than Good Game to stop her.
The Bottom Seed
The Scientific Method is at serious risk of being a failed experiment. Even before ending up 3-11, Alan Knox abandoned his lab/team and took Sean Petterson and perhaps Andy Eklund with him. The research is now in the hands of default captain Jacques Couvilon. In earlier MUD seasons, Jacques's last and only two commissioned teams were respectively seeded second and first going in to playoffs. But neither fared that well. On Thursday, in the rain, after their loss to Toast, Jacques and Reynaldo assessed what they had left, and talked serious strategy about the upcoming quarterfinal against LazerEggs. It could be a tactically brilliant affair, especially since despite losing their captain and a few stars, that team is still full of players who absolutely want to win.
---
Summer 2013 Playoffs: Saturday August 10th

8 August | MUD Newsdesk
If you look at the Standings chart and add the forfeits column to the losses column and then adjust for head-to-heads and win percentage, you'll find the standings are actually
Playoff games are set for Saturday, August 10th:
The Hunt (4) will play Anonymous (5) at 9:30am on Randall's Island, field 70.
At 11:30am on field 70, Good Game (3) will play ?! (6).
LazerEggs (2) and The Scientific Method (7) will have an 11:30am game on field 74.
Toast (1) will get a skip ticket to the semifinals, and that ticket includes a 1:30pm start.
Please consult the directions page for Google's help on getting to the fields. Also consider leaving crazy early for your games.
All's Settled. All's In: Week Seven

8 August | MUD Newsdesk
Toast toasted to two victories at Inwood on Sunday. LazerEggs lost Abby Murray four points into their 15-6 victory over Good Game. The Eggs were left only with Rose Comaduran, who collided with John Sakon in Lazer's game against Toast. Rose emerged neck sore and legs wobbly. That was significant enough to force Lazer to play 5-0 against Toast's full squad. When Toast scored to give themselves game point, Lazer's star Nathan Sany, who had been guarding three people for most of the game, exclaimed, "This is so hard!" The final was 14 to 10. Toast then beat Good Game 14 to 12 in a close and somewhat contentious game. Calls were called. Tempers flared. Apologies were made.
At Riverside, Anonymous crushed ?! in this season's third 15 to 4 game. The Hunt then killed The Scientific Method 15 to 8 despite a few odd trades of women for men to make things a bit more gender even.
On Tuesday LazerEggs completed their season with a victory, their 12th. They defeated Anonymous 15 to 8. Anonymous captain Alex Becker reported that his team was only down two at half. He added, "then we sucked and they didn't. They whooped us in the second half."
Windy Wednesday saw zone looks from both Good Game and ?! as upwind breaks were the quest of the evening. Good Game's oft-debuted 4-person cup (typically helmed by MUD rookie Malcolm Deck) was thrown through again and again by Frazer, Jeannie and their poppers. ?!'s 3-person cup fared much better against the captainless Good Game. The Bangers took half 8-3 and then essentially waited for the soccer players to flash their permit, eventually winning 11 to 7. The game was irrelevant for Good Game, as they would maintain their 3rd seed regardless. ?!, however, gave themselves the 6th seed with the win, and also guaranteed a rematch vs. Good Game in the quarterfinals. Will they face an uncaptained squad again?
Thursday was wet and getting wetter. Science was apparently tampering with the weather again. But Toast wasn't going for that game. They played in puddles. Toast rocked the Method 15 to 5. And with the win they became the second best team in MUD history (in terms of win percentage).
---
Cool Weekday Games: Week Six

3 August | MUD Newsdesk
Tuesday gave LazerEggs their eighth win in a row against The Hunt, who showed up with two women and no captains for what, the 60th time this season? You're playing the first place team; your team needs leadership. The score was 15 to 7. Luckily The Hunt would have a chance to redeem itself in a matchup against Good Game on Friday. LazerEggs has Good Game and Toast on Sunday. That latter matchup will almost surely determine top seed going into the playoffs.
Wednesday bore witness to an Anonymous trouncing of The Scientific Method. Winning 15 to 8, Anonymous gave itself a good chance to lock up the 5th seed with a win this weekend. Science slipped to last place with the loss and also lost its captain and star Alan Knox for the rest of the season (to California, by the way. Who does he think he is, Jenny Norris?) Science has two more games in the final week of the regular season, week seven. If they win both and get a little help, they will climb away from the bottom seed.
Thursday. Remember Thursday? It just rained all day. Toast didn't get soggy and the team formerly known as Interrobang didn't test punctuation rules in the rain. The game was cancelled.
Friday was almost a disaster. The Hunt threatened forfeit (what would be their second), and of course, they would have been forfeiting to Good Game who–perhaps ironically considering their team name–has been forfeited to three times already this season. Yet 6.5 hours before the game, The Hunt seemed able to field a team. Good Game won the game 15 to 11 and regained a winning record for the first time since week one (despite the forfeits). The Hunt cannot recover a winning record, having only one game remaining before playoffs. For the third season in a row Christian and BKap will bring a losing team into the postseason. But don't count them out; they're still, currently, in fourth place. Good Game has a huge breakfast of LazerEggs and Toast this Sunday. If their winning record survives, they'll be positioned well for the playoffs and be rather intimidating in light of this late-season go streak.
---
Wild Anticipation Worries Week Five

24 July | MUD Newsdesk
LazerEggs took over first place on Sunday by proving they were the best breakfast in a 15-14 universe-point victory over Toast. The Eggs ended Toast's season-best win (and undefeated) streak of 8. The win is Lazer's seventh in a row and they are now poised to break Toast's streak with four games remaining. Riverside's 2pm game was a rematch between Good Game and The Scientific Method. GG had adjusted its strategy since Wednesday and bested The Method 15 to 12.
Inwood's 2pm game came down to the league's sixth universe point conclusion. In this contest, the Bangers barely outfoxed The Hunt, 15 to 14. ?! then lost to Anonymous, 15 to 9. The Hunt, furious over their one-point defeat from earlier in the day, lashed out triumphantly in the game against Anonymous and wrecked the unknowns 15 to 5.
Good Game captain Bob reported on Tuesday evening that GG had 14 players for the game and that, once again, Anonymous had 3. Aren't they kind of like teenagers: superficially into stylish appearances and the Internet, but also they are the epitome of irresponsibility? Ultimate is fun you goofballs. Don't be all moody and never show up. Get a clue.
Toast was still ticked on Wednesday evening. Their chance at a perfect season gone, they took out some frustration on The Hunt. With mostly zone looks and at least seven handblocks, Toast held The Hunt to only four points and reclaimed first place from LazerEggs via win-differential.
Undeterred by the unseasonably cool temperatures, The Scientific Method met ?! on Thursday. Rumors were floating around all week that The Method was experimenting with atmosphere and temperature control in anticipation of this stay-out-of-last-place match. The distraction seemed to work as Science won the game 15 to 10 and shoved The Bangers into last place.
Friday's games were never even scheduled because many MUD players hit the stronger-than-the-storm beaches of Wildwood, NJ. Speaking of scheduled games, make sure to check out the team pages for additional regular-season games newly added to Weeks 6 & 7 (Aug. 2, and Aug. 6-8).
---
Ruling the Heat Wave: Week Four

20 July | MUD Newsdesk
Anonymous started Sunday off by giving away another win, this time to LazerEggs. What the hell, Becker? Sure you've got some injures, but get on that waiver wire and get your team out there. Anonymous, we may not know who you all are, but you're ruining everyone's good time when you don't show up. Apparently you're not legion, and at this point we DON'T expect you.
Also on Sunday, which was killer hot, Good Game rocked ?!, 15 to 8. At Inwood, Toast improved to 7-0 after smoking Science, 13 to 7, and then The Hunt, 13 to 9. When The Method played The Hunt, Science got wiped out, 12 to 6.
On Tuesday The Hunt actually got a game against Anonymous, though the latter brought only one woman, and thus played the whole game down a player. That woman, Katarina Lackner scored once and got two Ds, but couldn't save her team from a 15 to 6 defeat. With the victory, The Hunt evened its record at 4-4. Anonymous fell to 2-5.
The Scientific Method finally got its second win on Wednesday, beating Good Game in a great game to universe point. The final was 10 to 9.
LazerEggs got its sixth win in a row on Thursday against ?!. The game was fairly close throughout until Lazer pulled away for the 15-12 victory.
Speaking of fairly close, on Friday Toast and Anonymous, still riding the heat wave, brought skinny squads to Riverside and went at it. Even though Toast was leading most of the game, Anonymous held on until universe point, and then threw a four person cup. Toast was patient enough for the wind to lessen and Mateo hammered it to Jesse Mang for Toast's eighth consecutive win. Toast and Lazer meet in the first game of W5 Sunday, which is just when the heat wave is supposed to break. Only one of them can remain hot.
---
Back from Holiday: Week Three

13 July | MUD Newsdesk
Most players spent their week-three Sundays sweating in cars returning from amateur fireworks demonstrations all around the country. Tuesday held the week's first game. Toast handed Good Game its fourth loss in a row. At 15 to 11, it was Toast's fifth straight win.
In Wednesday's East River matchup, ?! found itself unable to figure out The Hunt's offense, once again. Perhaps it is those two handlers that the Bangers lost in a trade to The Hunt. Or perhaps Frazer, J9 and co. just ran out of time. Regardless, The Hunt got its second win on the league's third universe point, 11 to 10.
LazerEggs continued their domination on Thursday. They beat The Scientific Method, 15 to 12. It was the Eggs fourth win in a row after their tragic and only loss to Toast back in week one. The Method still has only one win and now they have five losses. They need to adjust that hypothesis as they play Toast and The Hunt this coming Sunday.
What the hell, Anonymous? You send three people to your Friday game against Good Game? Friday games are the best. There's that slightly overpriced café next door; you and your freshly-exercised opponents can all get completely sloshed. Gx2 and their thirteen players may have begrudgingly accepted your forfeit, but the league hardly does. At least you played pickup and, for the sake of score reporting, light beat dark 10 to 7.
---
Summer Is Still Hot: Week Two

3 July | East River
On Sunday, The Scientific Method got their first win and barely at that. Their captain was missing (but so were both captains of The Hunt), and they were playing against a savage, one-womaned opponent. On top of that, the humidity was making everything heavy and awful. The final was 15 to 13, and the game lasted more than two hours. Somebody should make sure those six from The Hunt are still standing; they put up quite the fight, just ask Amanda Nicol.
After Science proved they were for real, Toast brought it to Anonymous at 2pm. Winning 15 to 6, Toast appears to be heating up.
Inwood's first game was a slaughtering of Good Game by the team formerly known as interrobang. Perhaps Frazer was ticked Bob stole his team's initials from last season. ?! won 11 to 5. In the second game, LazerEggs made ?! eat their hat. The Eggs won 11 to 6. And as if that wasn't good enough, they put up 13 points to Good Game's 5 in the final game of the day. That Lazer is definitely hot.
Tuesday may have been the most exciting MUD game in a few seasons (and Andy Eklund wasn't even there). Toast and The Method brought massive rosters to Riverside despite threating clouds and Lonnie-Quinn promised rain. That rain came late into the game and the slick disc proved quite difficult to catch. The Method seemed to have a handle on it though, and got themselves five chances at a game point at 14-10. But then! Toast got a D score, and another, and two more! And after a sloppy, droppy universe point, Sarah Warner pulled down a huck and tossed it to her baggage, Nate Mandel, for the Toast comeback win. They're 4-0.
Wednesday held week two's last game due to the Independence holiday. The Hunt sent five players to the field to face LazerEggs. According to the Egg co-captain KCole, the game "was so much more than The Hunt's sausage fest." She reported that "torrential downpour yielded 2.5 inches of standing water on the field. Pond-skimming layouts ensued. However, bags were flooded so we could not get a phone working to instagram the double rainbow that popped up immediately following game point." Cole then added, "And we won 15 to 4."
---
Summer Starts: Week One

24 June | MUD Headquarters
Competitive league welcomes 33 rookies and two first-time captains to this shorter-than-usual but still splendid summer season. Week one scores are in and we're already having a wet hot riot.
Sunday
As is the custom, the first Riverside game was a rematch of last season's championship, and those rival captains debuted their new rosters. Mateo's Toast met Frazer and Jeannine's ?! (pronounced "interrobang;" and yes, in the off season Frazer bought out J9's contract and threw in a bonus co-captainship after she killed him in spring finals). Their partnership couldn't quite handle Toast on Sunday, however. Mateo punctuated his new team's first game with a 15-7 win.
At 2pm, Bob's team Good Game tried to play their first game against Christian and BKap's The Hunt, but apparently most of the latter team didn't know what time the hunt was supposed to start. Christian forfeited and picked up a couple ?! ladies (they then slammed Good Game, by the way).
The three teams up at Inwood were thin and immediately quite sweat wet. According to Alex Schneider all the turnovers and low scoring games were due to the combination of two new captains, the heat, and the kinks of new rosters. Schneider and KCole's LazerEggs faced off against rookie captain Alan Knox's experiment, The Scientific Method, in the first game. The new Schneider-Cole incarnation got its first win, 8 to 6. Next The Method met Anonymous, which is captained by the other first time MUD leader, Alex Becker. Anonymous suggested Science needs to run some more tests as they defeated Knox's team, 7 to 5. Finally, LazerEggs fried up a second win against Anonymous as KCole, in her second season as a captain, showed the rookie Becker how it is done. They won 9 to 7.
The Week
?! handed The Scientific Method their third loss on Tuesday, narrowly winning 15 to 13.
Toast and LazerEggs met for a late breakfast on Wednesday and registered the league's first universe point game. Toast got their second win on a Jon Read to John Sakon huck.
On Thursday, Anonymous hacked Good Game 15 to 7, and Becker grinned like a Guy Fawkes mask as he slapped "good game" hands with his last-season's captain Bob.
Friday featured ?! again, this time they played The Hunt, who finally managed to field a full team. The Hunt also managed to get a victory, winning 15 to 12.
---
Summer Heats Up

17 June | Inwood

You think you can relax now that Spring is over? Ah c'mon. Summer starts on Sunday! Seven teams will battle once again, this time until August 11th. Get ready.
---
Summer 2017, Spring 2017
Fall 2016, Summer 2016, Spring 2016
Fall 2015, Summer 2015, Spring 2015
Fall 2014, Summer 2014, Spring 2014
Fall 2013, Summer 2013, Spring 2013
Fall 2012