Everyone dies and The Funeral buries the league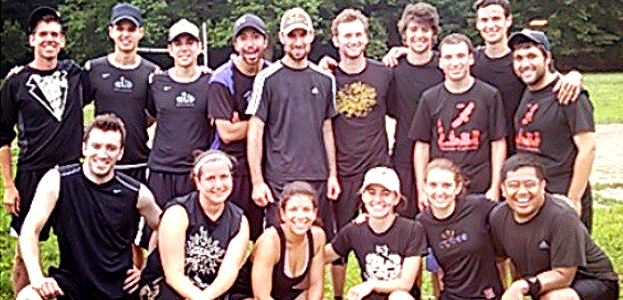 16 June | Inwood

BYOB defeated Quiet at 10am and advanced to the semi-finals. There they met Good Guys and were dominated 15 to 2–the worst defeat in recorded finals' history. The Funeral faced off against Pillow Talk and won 15 to 9, making Spring 2013 Comp finals a 1 vs. 2 seed affair.
At half The Funeral was up 8-2, and the crowd started getting restless. Whispers indicated this may be the biggest finals blowout of all time (The Goonies beat The BeeGees by 8 in Summer 2011 and SuperGreen beat Six Offenders by the same margin in Fall 2010). The Funeral openly discussed the subject in their half time huddle. Black got it to 13-2 before Denis Blount caught the Good Guys' third score and the crowd went wild. Significant cheering lasted about three minutes and the Good Guys' momentum earned them two more points. But then The Funeral put the nails in the coffin.
The final was 15 to 5, which is the largest margin of defeat in MUD finals history. The monster win was a fitting bow to The Funeral's stellar season. Of particular individual note: Chris Clark has played ten seasons without a final's victory until this season. Jeannine Opie and Stefan Loble made it to their first finals in nine seasons. GG's Jacques Couvilon did too, but J9 and Stefan got the win. Founding father Fred Merkel remained perfect through four finals' appearances. Funeral captain Mateo and also Maggie Mead got their 5th final's victories. Mateo appeared in his 10th finals; Maggie has been to the finals six seasons in a row. Sean Petterson is now three for three (all wins with Mateo). Devin Horne has made the finals in each of his five seasons–he has three wins. And Sandy Williams and Steve Carpenter exit the season as finals' winners and also as the best and second-best players in MUD history (in terms of win percentage), respectively.
Congrats to all, especially Winston Suntaree. You've commissioned another swell season and we're all grateful for your commitment… Summer!
---
PLAYOFFS: Three of four teams are Sunday bound

12 June | MUD Newsdesk

Tonight at East River Park, Pillow Talk pulled off a somewhat stunning comeback, upset victory over Nader's Raiders to advance to the semifinal this Sunday. Nader took half 8 to 5 then scored the first point of the second half. Pillow Talk then scored seven in a row and every one of those points involved either Sara Cornish or Jake Hall, including back to back honey passes. The final, hard-capped score was 12 to 10. Pillow Talk will play The Funeral at 2pm on Sunday in the second Inwood semifinal.
Good Guys will play in the first semifinal on Sunday. They crushed Chicken & Waffles 15 to 6 on Tuesday in only an hour and fifteen minutes. The field was soggy and littered with a few slick puddles–one of which CW captain Schneider found while laying out for a barely too far huck (one of 23 turnovers!). The game was played in between storms, so it was quite windy. Zones were abound, but this likely fit in to Good Guys' plan anyhow, as they don't really have a matchup for CW's Josh Kent. Chick Waffs, however, didn't have an answer for Craig Barowsky who scored four points for Good Guys, or for GG captain Frazer who was directly involved in nine of his team's scores. In the 12pm Sunday semifinal, Good Guys will play the winner of Thursday's quarterfinal between BYOB and Quiet.
---
Week Nine: On Sunday, Fates are Seeded

10 June | MUD Newsdesk

The Funeral met Good Guys at Riverside in a pride game that also had historical implications. These teams had already clinched the 1st and 2nd seed, respectively. The Funeral won 15 to 8 and became the team with the most wins in a single season (18) and with the highest ever winning percentage (94.7%). The Funeral captain Mateo enters the playoffs with the top seeded team for a fourth straight season. This season, the top seed gets a bye into the semifinals on Sunday at Inwood. They face the lowest seed remaining after quarterfinals this week. Good Guys will face Chicken & Waffles on Tuesday.
Nader's Raiders beat C&W on Sunday (13-11) and awaited the results of the Inwood games. Up at Inwood Quiet and BYOB awaited Pillow Talk. Pillow never showed and fell to the sixth seed with two forfeits. Quiet managed to upset BYOB's now easy snatching of third place. Quiet won on universe and now they get to play BYOB again in the 4 vs. 5 quarterfinal on Thursday. Nader (3) vs. Pillow (6) will happen on Wednesday.
The upcoming weekday games are MUD's first win or stay home series of quarterfinals. Come out and spectate the spectacle. You'll see desperation layouts and hucks, pulse-rising Ds, and season-ending scores. Should be wild.
---
Week Eight Wire

8 June | MUD Newsdesk

Friday
Rain prevented Friday's game. BYOB was hoping to get their first of three wins to snag the third seed. Chicken & Waffles had a shot at the 5th seed win a couple wins and some help, but now their seventh-seed fate is sealed. BYOB could still grab third by spending Sunday at the Dub Dub Club, but they need C&W to take it to Nader as well.
Thursday
Good Guys triumphed on Thursday with a 15-11 win over Pillow Talk. The win locked up the second seed for Good Guys, who have been flirting with danger lately in terms of ridiculous loses. Pillow now enters the four-fold race for third place with Nader, BYOB, and Quiet. Pillow will have to win their next two to get it.

Wednesday
On Wednesday, according to CW captain Alex Schneider, "Waffles only had one lady, so we played a person down the whole game. We broke Quiet on the first point, then traded points for a long time. Quiet tied it at sevens then we took half. Cap went on at eights; we hit nines at 8pm with the soccer players itching to get on the field. Chicken & Waffles' Sam Linton put a half field huck up the sideline to Josh Kent, but it tailed out of bounds. Going the other way, Evan Shulman had a beautiful layout grab and then caught a blade in the end zone for the win."

Tuesday
On Tuesday The Funeral tied the single-season wins record of 17, set in Summer 2011 by Bob and Georgia's The BeeGees. The Funeral beat Nader's Raiders 15 to 8 and spoiled Nader's chance at the second seed. Nader now enters the contentious race for third place.
Sunday
Nader's Raiders and Good Guys sure weren't acting like teams trying to secure a second seed on Sunday. Good Guys forfeited to BYOB at Riverside, and Nader's leadership let Pillow Talk and Chicken & Waffles know that no Raiders planned to make it up to Inwood. These are the season's first forfeits and they are shameful. In fact, now GG and Nader might need to win the second seed through The Funeral. And in the meantime, Pillow Talk or BYOB, or even Quiet might be able to steal it.
The game that did happen at Riverside on Sunday was riveting. Quiet full on took on The Funeral. The Fun started down a woman as only Jeannine Opie was present to bear the pall. Quiet got out to a 3-1 lead, and then Karina Ray finally arrived, running from the train, dropping her bag, and jumping on the line for The Funeral who soon took half 8-7. An hour later it was 14 to 14 and Christian and Mateo shook hands at midfield, agreeing it was now universe point. Quiet pulled. Four possessions later Steve Carpenter hucked a beauty to Devin Horne for The Funeral's 16th win. After the game Quiet cheered, "Good game. And we're serious." They were. It was.
At Inwood, Chicken & Waffles was fresh off their third win in a row (considering the forfeit from Nader). They set out to stir up some more trouble against Pillow Talk. But Pillow wouldn't hear of it. Winning 15 to 13, Pillow puts themselves into position to finish the season with a winning record. And that may be all it takes for second place.
---
Make Ups, More Rain and a Few Massacres in W7

1 June | MUD Newsdesk

Sunday was in the middle of an apparently well-celebrated Memorial Weekend. A few teams couldn't field starting lines, so the commissioner gave everyone the day off. Good Guys and Nader's Raiders, as well as The Funeral and BYOB, took the opportunity to make up their May 19th rainouts.
Good Guys had been on a three-game slide (including an embarrassing loss to C&W). Raiders had won their last three. What has become the battle for second place wasn't even close on Sunday. Good Guys slammed Nader 15 to 6.
The Funeral finally got some revenge on BYOB with a 15-5 Bob-whooping on Sunday. The win snapped BYOB's recent three-win streak. It also clinched the top seed in the playoffs for The Funeral.
Riverside Tuesday suffered too much rain and Quiet lost their chance to get a W7 game in.
The two suffers of blowouts from Sunday met on Wednesday to pound on each other. It seems Nader was more prepared to vent frustration. In another one-sided bout, Nader won 15 to 5, and BYOB only managed ten points all week.
Pillow Talk, in their first game in two weeks, took on The Funeral on Thursday. The game was quite well-attended. The Talk took half 8-7, but The Funeral cobbled together a small run in the second half and held on to win 15-12.
On Friday, Good Guys matched up against their new nemesis Chicken & Waffles. In a reversal of Week Six's game, this time C&W showed up with only seven players. But the suddenly fearless Chik Wafs seem to have the Good Guys' number. They won 15 to 11, and forced GG's Jacques Couvilon to shake his fist at the sky and curse (as many have before him) the savage Josh Kent's zone hammer prowess.
---
Week Six Really Soaked


Rained out Sunday, Thursday, and Friday.

25 May | MUD Newsdesk

Only two games were able to be played this week after thunder storms tore through the metropolitan area. On Tuesday Quiet matched up against The Funeral (or simply "The Fun" as Mateo's team is known among most MUD players due to the incredible pleasure of playing against them). It was a sweltering night and Quiet co-captain BKap just couldn't not take her parents to Matilda on Broadway. Jenny Norris showed; however, she was Quiet's only woman, so they played a woman down on defense. After keeping the game close in the beginning (The Funeral took half 8-7), Quiet spent most of the second half receiving, and thus playing 6/1 against a matching The Funeral. It didn't stay that close as The Funeral got clever like Roald Dahl and threw a bunch of junk defenses at Quiet. Then The Fun won, 15 to 11.
On Wednesday Chicken & Waffles had the herculean task of defeating Good Guys at East River and beginning to scratch their way back into the middle of the pack. Turns out Hercules isn't one of the Good Guys. In fact, only 6 guys and 1 woman can call themselves "Good" this week. Chic Wafs flipped the bird to the rain and made a statement, winning 13 to 11. According to GG captain Frazer, "we played 6 on 7 the entire game. We were up 11-9, then we fell apart. Sadness ensued." Naturally, searching for a real answer, The Latest reached out to Josh Kent. "Wasn't there," he said. "Out of the country. Can't take any credit." Well then Alex and Katherine, daaaaamn.
---
Week Five: A Week of Consequence


Jared Lenow of Chicken & Waffles brings down a huck despite the bid of BYOB's Mark DQ on Sunday.

18 May | MUD Newsdesk

It began with Upset Sunday, more specifically, Upset 2pm Sunday. At Inwood, BYOB debuted its bulletproof zone, and dropped jaws when it took down The Funeral. At Riverside, Quiet arrived fully loaded and blew away the Good Guys. Chicken & Waffles and Pillow Talk left Sunday upset as well. Chicken lost its 3rd and 4th games in-a-row, but Pillow extended its terrible streak to 5. Pillow's Sunday loss came at the tireless hands of Nader's Raiders. The Raiders have been struggling to surmount the .500 mark since early in week two. Here again, they left Sunday 6-6, poised to prove they belong in this season's winning class.
And thus the stage was set for the Week of the Week.
Tues: BYOB vs. Quiet (so you've taken down the big teams, but which of you is stronger?)
Wed: The Funeral vs. Good Guys (Is The Funeral finally vulnerable? Can the Good Guys bounce back big?)
Thurs: Chicken & Waffles vs. Pillow Talk (Who will gain some much needed momentum?)
Fri: Quiet vs. Nader's Raiders (Christian/BKap vs. Andy Part III: the final battle)
---
Four More Centurions already this season!


Georgia Pappas, Alex Berzofsky, Gilbert Hung, and Bob Suvanich.

18 May | MUD Newsdesk

Georgia Pappas became this season's 4th winner of 100 games when her team, Quiet, grabbed that universe point victory over Chicken & Waffles on W3 Sunday. Georgia is the 5th woman centurion (3rd this season!), and she earned her membership in 214 games, which took a little more than 13 seasons. She has won three championships in seven finals appearances.
Alex Berzofsky, who captained the first-ever championship-winning MUD team back in Spring 2008, became a centurion on W4 Sunday. When Quiet defeated Pillow Talk in a battle up at Inwood, Alex was silently celebrated as the third player on Quiet to reach 100 wins this season. Berzofsky is currently in his 13th season, and it took him 202 games to get his centurion membership. He has only captained that one team, but he's since won two other finals.
On a cool Wednesday night in the middle of Week Four, cool Gilbert Hung, with his team Nader's Raiders grabbed his 100th win and earned his exclusive membership to the Centurions Club. Gil joins Commissioner Suntaree as the two centurions on the Raiders this season. It took Gil 204 games on 13 different teams to get to 100 wins. The season that best contributed to his total was Spring 2009. It was Gil's first season and he was on Electric Boogaloo, the team that still holds the best win percentage and that also won finals. Gil got a second championship in Spring 2011 with Odna Komanda.
Captain Bob Suvanich joined the club of 100 winners on Tuesday of W5. The team he leads, BYOB, brought him the victory (and two before it) with a nasty tall-cup zone that may have turned his season around. Bob is the only centurion on BYOB, but he's the 7th player to get to 100 wins this season. It took Bob 204 games. He's in his 13th season and 5th captaining role. The first season he captained, Summer 2011, his team got the most wins in MUD history (17) and then lost in the finals. When he took off the captain hat in Fall 2012, he won finals. It was the third finals he has won.
---
The Rest of Week Four


Pillow's Jon Read in a scam D sandwich between Good Guys' Paul Robustilli and Talor Gruenwald on Friday.

11 May | MUD Newsdesk

Tuesday. The Good Guys brought their own blowout to Riverside, hammering BYOB 15 to 6. GG finally got Talor Gruenwald back from injury, and he and BYOB's Mike Dirda were the marquee match-up of the evening. Though Dirda put up two huge skys, Talor slapped down three point blocks and had at least three huck assists, throws that GG teammate Rob McKenna described as "on point, money." BYOB captain Bob couldn't connect with Heff on any deep looks, and GG's Amanda Nicol certainly won her much-anticipated matchup against BYOB's Josie Pratt.

Wednesday. At East River Park, Quiet failed to capitalize on their 3rd place momentum and lost to Nader's Raiders, 14 to 8. The loss dropped Quiet to 5th and flipped the Raiders back into 3rd. This time around Quiet captain Christian was not there, but Raiders captain Andy still made good on his promise that a defeat by his former captains "won't happen again." On W5 Friday, Quiet and Nader will meet for their third and final regular-season match up. This mid-season mini-series of former teammates is 1-1, and it has most of the league buzzing. Who will take the series? Cast your vote.
Thursday. The rain let up just enough to allow the mourning of Chicken & Waffles at Riverside. The Funeral was in top form with a new, confounding defense that involved pall-bearer Jesse Mang marking just about every C&W player out there, including Nora and Casey (C&W's savage women). The Funeral's D let up only 4 points and none in the second half. These teams actually play each other again on W5 Sunday. C&W's Josh Kent looks forward to the rematch, hoping, he said, "we get the Phils (Hospod and Yates back for the game."
Friday. Good Guys vs. Pillow Talk was the Game of the Week.
---
The Standings Shake Up over W3 and Sunday of W4


The Funeral's Chris Clark looks for Alan Knox deep in their 15-12 win over the Good Guys. Click here for more game photos.

6 May | MUD Newsdesk

The five teams currently placed below The Funeral and Good Guys jockeyed for position over the last six days and, to the surprise of dozens, Quiet came out on top. They started week three in sixth place, and though they lost their first game vs. Good Guys on W3 Sunday, they rallied and scored a universe point against Chicken & Waffles. Their big game against Nader's Raiders on W3 Tuesday was the Game of the Week. On W4 Sunday, after both Quiet and Pillow Talk lost to The Funeral (and after Good Guys beat Nader at Riverside), Quiet captured the Inwood twilight game to take third place away from Pillow Talk, who had had a winning record until then.
In week three, Pillow beat BYOB 15 to 10. But when they played C&W on W3 Wednesday, as Pillow's co-captain Jon Read described it, "KCole's Meat N' Starch minions scored a huge upset, sending Pillow Talk to an early bedtime." That final score was also 15 to 10.
BYOB lost twice in week three. Their Friday loss to Nader's Raiders put them into last place, behind Chicken & Waffles due to point differential. W4 Sunday provided both teams an opportunity to prove they were not the worst in the league. In their Riverside face-off, BYOB won outright, 15 to 10. C&W has The Funeral on W4 Thursday. A win would not only get Chicken & Waffles out of last place, it would also get everyone's attention. Not a bad ambition for a bunch of comfort food.
And so the specter haunting the league at this still early juncture is the undefeated The Funeral. The black juggernaut beat Nader and the Good Guys again in W3. Then on W4 Sunday, despite two close games against Pillow Talk and Quiet, The Funeral got a Spring league trick (only the second ever) and also they became the first team in MUD history to start a season 9-0. Good Guys captain Frazer predicts The Funeral will go 12-0, claiming no team other than his can beat them. The Funeral captain could not be reached for comment, but it should be noted The Funeral's last four games have not been easy wins.
---
Week Two in Perspective


Martha Gregory of Nader's Raiders posterizes herself in front of Therese Zosel-Harper of Chicken & Waffles.

27 April | MUD Newsdesk

The Funeral continued to bury teams in week two, starting with Nader's Raiders and the till-then also undefeated Pillow Talk at Inwood. The Funeral's Friday matchup against BYOB was the Game of the Week. Though The Funeral enters week three as the league's only undefeated team, they are gravely aware of the historical company they're now keeping. MUD has had eleven teams that started a season undefeated through at least four games (Mateo captained four of them). However, only one of those eleven—Steve Nicolson's Electric Boogaloo—won the championship.
On Tuesday, Pillow Talk got blindsided by the Good Guys, 15 to 8. Both those teams enter week three with records of 3-2. One third of MUD's championship teams started their seasons this way.
Chicken & Waffles got their first win of the season on Sunday against BYOB. Their Thursday game against Ralph Nader's pirates was a nefarious affair. The parks department installed mid-field fences, so teams played 5-on-5 on a field even smaller than that one in week eight of Fall 2012. The small field led to easy scores and the extended game ended 19 to 17 in favor of the Raiders.
Quiet finished the week with a couple hushed losses to Good Guys (Sunday) then BYOB (Wednesday). While Christian and BKap whisper about righting their ship, they might want to know that 19 teams have started a season 1-3, and nearly half those teams finished last in the league. One of them, Cumulus Clouds of Spr09, is considered the worst team in MUD history. However, three of those teams won the finals. Quiet can keep an eye on Chicken & Waffles to see what another of those teams does. And they even get to play C&W on Week Three Sunday.
---
Three New Centurions Join the Ranks


Felipe Rivera, Carolyn Louth, and Maggie Mead.

22 April | MUD Newsdesk

We're not even two weeks into this competitive spring and already Felipe Rivera, Carolyn Louth, and Maggie Mead have secured their membership into MUD's most exclusive club: The Centurions.
Felipe is a MUD staple. This is his 14th season in the league, and Felipe got his 100th win in this season's opening game. Though it took the bidding, d-line all-star 209 games to become a Centurion, the club's 16 other members welcomed him warmly–especially since five of them are Felipe's teammates on The Funeral.
In the Friday game of Week 1, Carolyn Louth decided she needed another accomplishment in her storied MUD career. Carolyn is the only player in MUD history with five championship wins; she's designed every disc and jersey; and in a universe-point win, Carolyn became the Centurion who needed the fewest games to get 100 wins. It took her only 153 games. That's one hell of a bar. Eric Nielsen, for instance, would have to win the next 11 of 12 games just to match her. Duncan Mendelsohn has to win the next 58 straight. Carolyn's only centurion teammate on Quiet, Brendan Snodgrass, who famously flew to California while his team, California, won to put him in the club, said in an email, "it's an incredible achievement. [She's] a well deserved member of the group, and I just hope she doesn't beat me to 200."
On Sunday, against Nader's Raiders, The Funeral's Maggie Mead leapt over her defender and a fast-approaching poacher to bring down the score and her 100th win. Maggie needed only 155 games to join the club, and she currently holds the best win-percentage of all its members (64.6%). Her left-handed double sky was one of the more exciting moments in Centurion history, on par with Danielle Berardi's universe-point winning catch in the last game of the Sum12 season, or John Kim's game-winning catch over Eric Shoemaker in the Sum11 game where both he and Shoemaker had 99 wins, or even Kevin Owocki's Centurion-making, game-winning throw in one of the two games Owocki attended in Fall12 (Owocki won finals in the other game he attended that season).
The Centurion ranks will likely swell even more this season as several other players are close to 100 wins and most teams have 17 games remaining. Help put your teammates in the history books: Georgia (99), Gil (98), Berzofsky (97), captain Bob (96), Josie (95), captain Jeff (93), and Josh Kent (91).
---
Breaking Down the Teams in Week One

19 April | MUD Headquarters

After one week of nine games, only 21 differential points separate our seven-team field.
At the bottom of the standings squats reigning champ Alex Schneider who brought Katherine Cole on board as his co-captain this spring. It is Ms. Cole's first leadership gig in MUD. The duo has thus far proved ineffective, as their team, Chicken & Waffles, has been unable to put a win in the books in their first three games. It could be an experience issue. Schneider and Cole have fresh-faced the league by drafting seven MUD rookies. And only seven of their other players were in the league last season. Though this looks like a rebuilding season, don't forget that Schneider didn't miss a finals in 2012.
Atop the standings sits fall's runner-up, Mateo, who also dipped into the unknown pool and drafted five newbs. His team, The Funeral, won both its week-one games and with plenty of help from the new blood. However, The Funeral's secret may actually be a brain drain. Mateo drafted five former MUD captains (three of them centurions) including his old nemesis, the recent emeritus, Fred Merkel. That's a lot of morticians in the morgue, and they're all wearing black! Perhaps to brighten things up, Mateo also drafted ten of his old teammates and nine players from at least one of the last three finals. Seems like he had a plan.
Finishing the week at 1-2, Bob Suvanich returns to a captaining role after winning under Alex last season. Bob is one of the three solo captains, and like Mateo, he has surrounded himself with his regulars, namely the lovely Heff. Bob got the big Becker/Dirda baggage this season and knows that his success is going to be about attendance. He even named his team to reflect that conviction: BYOB (Bring your own Bob). Bob's summer 2011 team won 17 of 22 games, so if he brings that good captaining, his team should turn around quick.
Christian and BKap managed to avoid drafting anyone with whom they played last season. In fact, if you go back three seasons, you'll only get Baywatch and Berzofsky. So what of this newfangled lineup that also doesn't include Tony Fangel? They've drafted eight players who have won at least two finals, eight who have been in the league at least 10 seasons, three former captains, four total rookies, and one centurion. Will all this finally add up to a finals appearance for these star-crossed captains? Well, their team name of "Quiet" and their record of 1-1 suggest that no one is really discussing it.
Jeff and Frazer are also going with a new formula. Their team has the lowest average of MUD seasons played, and they only have four rookies. However, their rookies are known talents as are many of their recently-absent-from-the-league stars like Talor Gruenwald and Eli Bond. Since only two of their players have won a final in the past three seasons, these guys know something is ready to erupt. In his tenth season as a captain, Jeff knows that a dormant volcano is still a volcano. They call themselves the Good Guys, and though they're only 1-2, considering that MUD League is a classic source of westernized, hetero-normative narratives, it's difficult not to picture them fighting through adversity and saving the day.
Jake Hall and Jon Read plan to see what happens when they join forces, and they're hoping it's not a zero plus zero scenario. They've only captained one team each, and SmileCrab and Teammate were the worst and second worst teams of their respective seasons. So far, the partnership is working out. Their team, Pillow Talk, went 2-0 in week one. It seems their drafting strategy was a good one. Four of their players played club together. Four of their other players are centurions, and between those centurions, they've had a representative in every MUD finals. Finally, almost their entire cutting crew is alumni of Vassar, where apparently you can major in chemistry.
The wildcard this season is MUD's seventh team. Andy Eklund has been put in charge of this lot, and perhaps as a comment on Andy's greenness, they're calling themselves Nader's Raiders. Like ol' Ralph, captain Andy doesn't have much support. He's got one former captain on the roster, but Perry hasn't led a team since Fall 2011. Commissioner Winston is on the team, but perhaps only to supervise. And yet everyone might want to keep an eye on this team. Andy has won a championship as have eight of his players. Five of his other players have played in a finals. Dozens have anticipated the moment when Andy finally got out from beneath Christian and BKap's rock of mediocrity. And, despite getting raided in his second game, Andy's 2-1 record is the best start for a first time captain since Bob in Summer 2011.
Even better? Those three winning-record teams play each other at Inwood to start off week two!
---
Spring 2013 Begins April 14th
27 March | MUD Headquarters

The draft: happened. The permits: in hand. The rosters: set. First games: April 14.
---
Summer 2017, Spring 2017
Fall 2016, Summer 2016, Spring 2016
Fall 2015, Summer 2015, Spring 2015
Fall 2014, Summer 2014, Spring 2014
Fall 2013, Summer 2013, Spring 2013
Fall 2012