Emotions Overcome League and Win Finals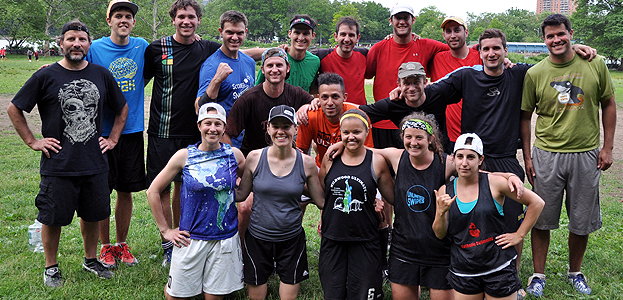 8 June| MUD Headquarters
What a thriller! Three of four quarterfinals settled on universe; 8th-seeded Rhino Cats putting together two mid-game comeback streaks to knock off the 1 seed: True D; a legit-savage Thunder Gun staying right with and almost beating The Dictators who were missing only one player; and rookie-captain Travis surviving the 3 seed and plowing through the 4 seed to put his Stinky Britches in the finals. The tournament was a topsy-turvy affair except for one thing: the steady and unflinching Emotions.
Mateo had all his stars, and they were shining. At no point were 2nd-seeded Emotions losing in the tournament. To win they played the 7th, 8th, and 6th seeds. The games were close and all of them featured runs by each team, but Emotions always pulled away. Notably: The Meads got their league-leading 7th titles; Ben Graf and Harinthon Chanilal are now 3 for 3 in finals' appearances; after two seasons, Rami Husseini knows only total victory; Cary Hammond, Jeff Rohr and Allie Wassel finally won their first finals after playing 11, 11, and 10 seasons, respectively; and seven MUD rookies are now champions.
Congrats to all the players, however, for a highly competitive, highly spirited spring. Our teams were all stronger because we were on them. And, of course, because Winston Suntaree was our commissioner.

---
W7: Teams prepare for a Most competitive MUD finals
3 June| MUD Headquarters
Friday: Rhino Cats Upset Soup and Please the Centurions
In the last game of the regular season–a standings-irrelevant contest between Rhino Cats and Alphabet Soup–a small group of Centurions (our league's most elite group) prowled the sidelines. Though they refused to speak to anyone save themselves, they were particularly interested in this game. A young man who was raised by MUD league was playing his 199th MUD game and his record sat at 99-99. This man, Frazer Goldberg, backed by nearly dozens of Rhino Cats, roared through Soup's nearly savage defenses and upset the 3rd seed 15 to 10. The Centurions were content; Frazer was now one of them.
Thursday: Britches Beat Thunder and Settle the Remaining Seeds
Relocating to the 108th st. turf field (which a softball league had abandoned), Stinky Britches won the 6th seed by defeating Thunder Gun, 15 to 13. The Britches will face Alphabet Soup at 10am at Inwood on Sunday. The win was Stinky's third in a row and it forced Good Times into the 7th spot; Good Times gets the 12pm start now, but they will face Emotions. Thunder's loss (their sixth straight!) puts them officially into the 5th seed.
And so the quarterfinals are set and scheduled on the team pages and above. Even though seedings are locked up, the game of the week (if not the season) is tomorrow: Rhino Cats play Alphabet Soup. That game will finally determine whether Frazer Goldberg is meant to be a Centurion or a MEGAloser. Come watch the Professor get it done.
Wednesday: Emotions Lock Up Second Seed with East River Win
With most of their stars out, Emotions defeated an insistent Dictator team 15 to 13. Taylor Brooks and Paul Rosbustelli had stand out games for Emotions, as did Maggie Mead and Maya Perry, who played the entire game without a sub. Dictator captain Andy played like a champ in a playoffs-meaningless game for his team. Eric Nielsen also had some massive plays in the loss. Both teams will look at tomorrow's game to see their opponent. Dictators are playing Thunder no matter what, but Emotions will play Stinky Britches if the Britches win, or Good Times if Thunder pulls it out. If Stinky wins they play Alphabet Soup at 10am. If they lose, they play Emotions at 12pm. Sleep or opponent? The classic question.
Tuesday: Rain Secures the Top Seed for True D
True D will finish with a 10-4 record, which will be this spring's finest; however, they won't get to bounce back from their recent loss before finals. And since rain has once again washed out a weekday game this season, Good Times won't get to decide their own fate either. Even Emotions are sad that the weather killed their chance at first place. See how bad rain is? True D vs. Rhino Cats is officially scheduled for 12pm, Sunday at Inwood. Good Times could have claimed the 6th seed, but now, at 5-8, they wait to see if Stinky Britches can win on Thursday and take it from them.
Makeup Sunday: Good Times Gets Two Games Back and Set Themselves Up
Week Seven Sunday was dedicated to makeup games, mostly for Good Times. When the featured team clashed with Thunder Gun for Part II of II, the sequel was more like a remake. Thunder was again 4/3 and this time completely savage due to a lack of the same men; Good Times had plenty of subs. While heat and zone D were definitely factors in the game, the psychological toll and frustration over the same mistakes and disadvantages two games in a row seemed to suck the will to win from Thunder Gun Express. The game got a bit chippy; Werblin had more turns than Ds; Snodgrass played pretty great, but his team and his captain Jeannine didn't rally behind him. The loss (Thunder's fifth straight) means Thunder will finish in fourth or fifth place with The Dictators.
Thus round one of the quarterfinals will feature a fully-stocked Dictators team against a roster-ravaged Thunder Gun Express: 10am, Sunday.
Good Times fell victim to a pumped up, tall and young Stinky Britches in their second makeup game on Sunday. Britches won by 9 and may have shut out The Times in the second half. These two teams are now vying for the 6th seed. With the 12pm win, Good Times guarantees Rhino Cats are stuck at the bottom.
---
W6: Cheap Wins and Key Losses Protect the Standings
31 May| MUD Headquarters
Sunday Riverside: Emotions Toy with Stinky and Dictators Dominate Thunder
For the second time this season, Stinky knew they were going to beat Emotions, had the game in their hands, and blew it. Emotions had to score five in a row to win, and unlike last time (when they scored seven straight and won comfortably by three), this time it meant preventing four game points. All it took was Ben Graf lighting himself on fire and getting bookends again and again.
Thunder just doesn't seem to have it in them anymore. At 2pm, they gave up their third loss in a row to The Dictators. This one was a bit of a family affair. Dictators' star high-releaser and short-deep defender Sami Aboulhosn had declared that he would boycott his own sister's wedding to Thunder's massive-armed, trusty-handed Francis Giknis, if The Dictators didn't defeat Thunder Gun on Sunday. Sami even brought his parents to bear witness (or were they there for Francis?). Regardless, The Dictators had two full lines and Thunder barely had one. Figuring their legs would withstand the heat longer, The Dictators stretched the field all game. Thunder turned it 14 times and only got back 8 on Ds. Dictators had only 9 turns and got all but one back. So yeah, they won by six, and Sami's going suit shopping.
Sunday Inwood: Soup Shames the League, but Good Times Earns a Real One
Alphabet Soup had 4 players without Memorial Day plans, so despite Thunder's languor of late, the Soup gave up the third seed to the Gun Express after two horrible forfeits. The bonus wins went to Rhino Cats and then to True D bringing the latter's win streak to 8 (and the former's, scandalously, to 2). In the first real game, True D whooped on the pickup-laden Good Times (only 4 of 133 other teams have won 9 or more straight). But Good Times rallied back against Rhino Cats. That game went to universe and Good Times got their third win of the season. Phenomenally, it is possible for Good Times to end the season without a losing record. On Friday, they'll meet the thunderous opponent who gave them their worst beating. Drama!
Tuesday: Dictators Reinvent Themselves and Take Down Rhino Cats
The formerly flip-flopping Dictators have adapted a draw-out pattern of LL-WW, and who knows what the future holds. At Riverside, The Dictators started out short-handed but got a handful of points before Elizabeth Munson arrived to join the already savage Zina Huxley-Reicher. Rhino Cats were all rhino and no Chris Nelson until about 5 to 3. Zone defense was The Dictators' plan for the game, and, as expected, Rhino threw the disc amongst their handlers for most of the game. Rhino's zone D couldn't stop The Dictators, though, according to Captain Andy, "The 'Tators love to turn it over as much as possible before scoring." Dictators won. They need a little help, but they have their eyes set on third place. Rhino now needs help to stay out of last place. After the game, an undeterred Chris Nelson stated that his team "will peak for the finals."
Wednesday: Heff Gets Engaged and Stinky Britches Slay the Late-Season Giant
Help for Rhino Cats nearly vanished on Wednesday when Stinky Britches solved the True D puzzle and stomped the first place team, 13 to 7. True D captain Bob and his newly-affianced Heff were not present, and True D was so overcome with congratulations and excitement for the MUD couple that they only sent a savage squad to the East River. The game was a truly windy affair, and Stinky captain Travis reported it was actually a good game despite the wind and final score. His team was "able to capitalize on some turns (which [he admits they] had a hand in forcing), and that was the difference maker." Travis also scouted his own team and spoke highly of Zach Phillis's great layout grab in the endzone. He added, "tonight also marked the return of Albert Wu. The rest of the league better watch out."
Thursday: Soup Staves Off an Emotional Surge
When they were down 11 to 7, Emotions seemed pretty confident. On the line they were laughing and talking about "their wheelhouse," and how they had Alphabet Soup "right where we want them." Of course they were nervous and drunk on memories of their recent comeback wins against Stinky Britches. They were also poised to secure first place with a win here and then another next week due to True D's Wednesday loss. So they did what they do, and Emotions were soon pulling at 14 to 14, last point. But their charm was spoiled. Ben Graf nearly got a poach D after the pull and Mateo, thinking (maybe wishing) Graf had gotten the D, lost a step to Ryan Drost. Josh Kent got the dish and put up a Josh-Kent huck. Mateo's deep bid was hardly near and Drost caught it and threw it to the quick, trailing Ethan Grund. The win boosts Soup to third over Thunder. Emotions drop to second and will need a HUGE win from Good Times next week to even have a chance at the top seed.
Friday: Good Times and Thunder Consult the Gender Ratio Chart for Part I of II
Thunder played the whole game 4/3 vs. Good Times 5/1, and Good Times' man-up, person-down pulled out the win. Their last meeting went 15 to 2 in favor of Thunder Gun, this time Good Times won 12 to 9. The gender and number issue pretty much forced zone D to be played, and Thunder simply could not get through or over Good Times' pressure. Thunder had 24 turnovers, and even though Andrew Werblin had what was likely the best overall defensive performance of the season (nine earned savage Ds), Thunder couldn't stop Good Times scoring with all but one of their nine players. The loss further distances Thunder from the three seed and puts them one loss out from the fifth seed. Good Times swaps up to the sixth seed, and pushes Rhino Cats more securely into the bottom seed. Good Times and Thunder meet again in two days for Part II of II.
---
A League Truly Tricked and a Good Time Had in W5
24 May| MUD Headquarters
Sunday Riverside: Emotions Recover and Soup Gets Another Close One
With the absence of opposing captains DQ and Mateo (who were rumored to be disc golfing), Good Times (still with Capt. Hunt) met Emotions at noon. A Seattle couple was in town looking to relive their salad days in MUD, and though John Kim was adamant that these ringers could only play with 75% of their abilities, Denis and Amanda, joined Emotions and Good Times, respectively. Emotions, still with Maggie Mead at the helm, got the win and extended Good Times' losing streak to five.
At 2pm, Alphabet Soup faced off against Thunder Gun Express. It was a tight game, but Soup, resplendent with a new banner on their team page, got the universe win. The win put Emotions back into the now hotly-contested first place; Thunder dropped to third, and Soup bumped themselves up to second. Soup's captain Gabe, who is aware of his team's rank and his own best win-differential of all active players (82.8%), said after the game, "Thrilling universe victories all look alike." Take that Jeannine and Andy.
Sunday Inwood: True D Notches #5 and #6 and Rhino Cats Start the Week Endangered
The Dictators and Stinky Britches pretty easily dispensed with Rhino Cats who, like a kitten uselessly playing with a ball of string, seem more interested in prolonging a point with fancy dump resets than exploiting subtle or blatant mismatches and putting the disc in the endzone. The Cats still have some company at the bottom, and one of those teams seems ripe for a breakout win streak.
Speaking of streaks, can any one stop True D these days? The D is now one winning-Tuesday match-up against Thunder Gun away from a League Trick: that's beating every other team in the league, one after the other. Only two other MUD teams have tricked an eight-team league before. webuygold.com did it in Summer 2010 and captain Bob's The BeeGees did it in Summer 2011. On Sunday, True D scored 30 points to their combined opponents' 12. True Detective's season is over, but True D is just getting going, and they, now tied with Thunder Gun, seem to have their eyes set on top seed as well.
Tuesday: Tricked!
And so the league feels foolish. In a fairly clean game in terms of turnovers (both teams averaged only seven each), True D defeated Thunder Gun. The game was not very clean in terms of spirit, but both teams seemed aware of the stakes: as True D has risen in the seeding, Thunder has slipped. This game was a chance for either team to prove itself, and it was obvious by the massive attendance that they both wanted it. The marquee matchup was John Sakon vs. Jon Caldera, and both players lit up the stat board, Sakon, notably, with 3 assists and 4 Ds, Caldera with 5 scores. They also lit up the calls. A significant "no call" was decided by a tripped up and injured Mike Rediker when the game was 8-7 True D. Thunder actually got it to 9-9 as soft cap went on. After True D scored on their offense, JCal got a poach D thrown right to him. Give and go to score, and he spiked the disc like a total rookie. But his excitement was understandable. As was Thunder's subsequent frustration with the spike and the game. Thunder is now in fourth place, and True D is tied for second after winning seven in a row.
Wednesday: The Team that Good Times Doesn't Have Trouble With
Good Times has now won two games this season, both of them against The Dictators. The Times' problems with women were unfounded at East River Park as four of their ladies showed up and killed it. GT's scoring was pretty spread out, though Karen Milch and Joel Berning had four each. Captain Hunt, of course, threw seven scores (and only six turnovers!). The Dictators concentrated most of their assists and scoring amongst Jerald Isseks, Stephen Schaffenberger, and especially Matt Kushner, but Kushner's willingness to let the disc fly ultimately kept The Dictators fighting for survival in this game. Good Times got 15 Ds and 10 of them were on Kushner throws. Captain Andy was missing and missed, but still the game came down to universe. Despite Josh Zukoff's two layout dump saves for The Dictators, game-saving endzone Ds by DQ, Katarina Lackner, and Roshan Hariharan (with a huge layout block) put the disc back in Hunt's backhand, and a huck to Hyde Harper won it.
Thursday: A Little Rain Pushes Alphabet and Stinky Uptown
After kicking off some pickup players in a squatter's-rights, first-to-lay-claim circumstance, the Soup and the Stink "carved out an ultirec-sized field and played 6s," said Capt. Gabe. Britches won the game before sunset as points came quicker than normal. The win swapped Stinky out of the second to last spot and dropped Soup down to official third. Stinky has Emotions next and Soup has Memorial Day weekend to gather numbers for.
Friday: Week Five Sees All Its Games Played, Kind of
At 5 to 3, Rhino Cats were up two breaks and Emotions were about to receive the disc when lightning flashed over the eerily close New Jersey, or did it hit that boat on the Hudson? After the discussion about waiting it out was interrupted by another, closer bolt, the precedent from Summer 2011 was cited and everyone fled. That seasons-past game ended 2 to 1 due to weather, and the result stood. So Rhino Cats got another win for history to consider, and for this season's significance, Emotions again gave up the top seed, this time to True D.
---
Blowouts, Universe, Rain, and 100 wins, all in W4
17 May| MUD Headquarters
Sunday Riverside: Brad Russell Earns His Stripes and Dictators Swing Back to the W Side
True D went on safari and shot up the Rhino Cats—and their newly-stenciled t-shirts—at 72nd street, giving Bradford Russell his 100th win in the league. Brad's been with us continually for nearly 12 seasons. He's won one championship back in Summer 09, and now he's a centurion. He joins his True D captain Bob in that most excellent club. His team, lately, has also seemed most excellent. True D was able to contain Chris Nelson's flashy, cat-like handling prowess, especially with JCal all over the field. The game was close and Rhino Cats clawed at everything, but the D was too much.
The Dictators can't stop the flip flop and started their fourth week with a Riverside win against Stinky Britches. Most of the Britches seemed to be dutifully celebrating Mother's Day instead of attending the game, but according to Dictator captain Andy, "they still had plenty of Stink to go around." Without their moms present, these teams let some tempers creep into the game, and after half, "travel" and "double team" calls proliferated. It ended with a hammer to Aboulhosn and everyone is still friends.
Sunday Inwood: Emotions Go WW for the Third Time and Good Times Drowns
The Inwood-bound teams understood that mothers, sure, are important, but MUD requires just as much love. Emotions rocked Thunder Gun, maintaining their poignant first place. And then the feelings overcame Alphabet Soup, handing Soup their biggest loss of the season (9 points). Thunder and Soup took out their frustration (preemptively in Soup's case) on Good Times. Soup smothered GT 12 to 7, but Thunder decimated Hunt and DQ's gang by 13: biggest blowout yet. The previous best defeats belonged to Emotions (10) and then True D (12), both against Good Times. Wouldn't want to be the mothers receiving those phone calls tonight.
Tuesday: Gabe Has Never Lost to Andy in This League
Before tonight, Alphabet Soup's Gabe had played Dictator's Andy ten times in his MUD career without losing. Ever since Soup lost to Thunder Gun in Week Three, they have been mimicking The Dictator's win-one, lose-one record. "Conveniently," as Eric Nielsen put it, "it was Soup's turn to win, and Dictators' turn to lose." But it didn't seem like anyone was settling for some predetermined fate. Showcasing some of the most patient offenses and tight defenses, both teams were on fire.
The first half featured zero drops, and the whole game had 23 earned Ds. After Josh Zukoff hucked it to Nielsen who skyed Tom Kucera and Ryan Drost for the 2-2 score, the Dictators didn't relinquish the lead. However, at 8 to 11, Drost hucked one to Cat Rice for the score. Soup benefitted from six panicked Dictator turnovers, and scored two more to tie it. Last point was called. It seemed like Andy thought Rose was going to the corner, but the throw went to no one. Three plays later Drost was hucking it to Rice again and Gabe (and Jake and Soup) had pulled out the massive win.
Wednesday: "Blunder Pun Sexpress: 12, Other Team: 7″ –Jeannine
The scene at East River seemed like your standard trouncing of Rhino Cats. The Cats brought few people and left with fewer points. Thunder captain Jeannine noted, "given their short numbers, Rhino Cats gave us a heck of game. My team threw it to Chris about 20 times." She then made an odd claim of motherhood by calling the Rhino captain a "poachy son of a gun." Let's let that one play out.
Thursday: True D Takes Advantage of Unbridled Emotions
As Emotions captain Mateo sat on the tarmac at JFK, his team, led by Maggie Mead, showed up slim and anxious to face the hot-streak True D. True D brought their whole team, of course. From the start the game was one-sided as Emotions had no answer for True D's true deeps, like rookies Geoff Giller and Krishna Kulkarni. With the 8-point win, True D has four in-a-row, and Emotions have abdicated the top rank to Thunder Gun.
Friday: Good Times Goes Four for Four as They and Stinky Get Rained Out
These are terrible times, frankly. That's two meeting between these teams washed away. They'll finally get a chance at each other (weather-permitting) on June 1 at 2pm.
---
Stormy Week Three is All Thunder
10 May| MUD Headquarters
Sunday: Thunder Gun Hits the Club at Inwood
Jeannine on vs. Alphabet Soup: "We had a pretty significant lead in the first half. Then we got sloppy and let them wayyy back in. We ended it on a pretty Aaron-to-Natalya universe point. Good spirit all around."
Jeannine on vs. Rhino Cats: "Francis had a Callahan, Snodgrass and yours truly had bookends, and Evan had a layout greatest with Amadeo laying out to catch it. Crowd ruled that Evan was already on the ground, looked f**king cool though). Proud Captain :P"
Gabe on vs. Thunder: "That game is mostly obscured by my sadness at giving up a universe point for our first loss. Thunder had us 8 to 4 at half, but we came back to lead by one before being vanquished. We were a few drops or a female sub away from taking that game."
Gabe on vs. Stinky: "We played substantially better 5-1 than 6-1. Our six-person zone was much more effective than our seven-person man defense. Huge all-day props to Savage Abby [Murray], and to Ryan [Drost] for driving 8 hours back from Montreal to take away any and all deep throws against Stinky."
Frazer (Rhino) on vs. Stinky: "We won a game!"
Travis on both games: "I am proud of my team. We didn't come out on top at all today, but we battled back from being down 6-1 in both games. We took half in the Rhino Cats game, which we eventually lost at universe. And against Alphabet Soup, we brought it to 8-8 when cap went off and eventually lost 10-8. Not bad."
Rookie Zach Phillis (Stinky) added, "Our differential is awesome for a team with our record."
Sunday: Dictators and True D Destroy Riverside
In the noon game, The Dictators played what Eric Nielsen called their "tightest game of the season" against Emotions and came away with the victory. It seemed inevitable throughout the second half when Emotions couldn't keep it away from Sami Aboulhosn's D. Nielsen and Brianna Griffin couldn't stop scoring for the Tators either. For DQ's Canterbury Tale of the game, check out the GOTW rhyming couplets.
The 2pm game was this season's most one-sided game so far. It is unclear whether the credit goes to True D's punishing defense and nasty handling, or if this 12-point blowout should be blamed on Good Times' inability to manufacture an offense (their previous loss was by 10). The rainout-caused lack of playing-together-time could be the problem. It could also be that Allison Pfaendler seems to be the only woman regularly showing up to Good Times' games (and playing great, by the way). Besides Gabe and Jake's Soup, the other three teams helmed by rookie captains seem stuck at the bottom of the standings. Yet Good Times has by far the worst differential in terms of games played. Something's got to change there. Someone get a hold of Chris Wicus.
Tuesday: Emotions Swell in Comeback Win
For a moment it seemed like Emotions were playing against Brinky Stitches. In the first point, Stinky's Sean Petterson was playing such tight defense on Emotions' Matt Wiener that they collided foreheads and then escorted each other to the hospital for a total of six stitches and "some concussion like symptoms." Obviously, the Britches got over it quicker than Emotions and soon Stink was poised.
At least twice this season, Emotions have been awash in feelings and have underperformed with drops and throwaways—or throw-to-Ds (often obvious Ds). They were at it again and Stinky Britches were not. On this cool, breezy Riverside night, the Stink, especially SK Delacruz, was outrunning and outplaying Emotions' deep roster. It was never quite a runaway until 10-6, and then Emotions hucked it to Taylor Brooks.
Three more of those hucks later and Emotions had tied the game. Suddenly, Emotions had a claustrophobia-inducing zone and got Ds everywhere. After seven unanswered the game was over. According to Britches' Captain Travis, the game was a "damned roller-coaster."
Wednesday: True D Puts a Lid on the Soup
ABC Soup had seven drops to start the game, three of them for what would have been Soup scores. At 0-4, when Soup finally called a timeout, True D was feeling pretty good about themselves. Bob had sent ten relatively low-profile players to the game, and he wasn't there either. These players, like rookies Anna Meyendorff with two scores and a D, Andrew Bergman with four assists and a score, and Krishna Kulkarni with three assists, two scores and a couple of monster endzone Ds, were there to make sure we all learned their names. And let's not forget Lolo Wohlo's three scores, or Brad Russell's D and two scores on his way to his 99th win. Steve Carpenter filled in as captain for the night, and despite way too many turns, sealed the deal with three massive assists.
Soup's early miscues seemed to shake their confidence for the rest of the game. Even Dan Bolivar's four Ds or KCole diving bids couldn't save them. True D was fully exploitative as they flexed their surprisingly deep (in terms of their aforementioned roster) deep game. Soup falls from first to third with the 11-13 loss and True D evens themselves out.
Thursday: Three for Three (The Bad Kind)
Good Times have yet to play a weekday game. They and their would-have-been opponent, Rhino Cats, will have to search elsewhere for their respective second wins.
Friday: Thunder Outguns The Dictators
Rain couldn't keep Thunder Gun from challenging The Dictators and their massive turnout in a relocated game of 6's on a tiny field at 103rd and Riverside Park. Thunder Gun only brought 8 players, and, according to the head of state Andy, "they were likely the best 8 guns to have in the league."
There is always a lot of talk surrounding a shorthanded team. Maybe they play better because they don't have to sub out? It was true on Friday. The field wasn't big enough to tire the small Thunder squad, and the Dictators had 3 lines of subs. There were moments of heroics for the Tators: Jerald Isseks had a tremendous layout D. Kushner made some nice throws, and Sami was Sami, but the Dictators were Dictated. Sakon and Francis completed nearly every pass (to each other). #J9 caught all the hammers, and Evan Schulman constantly found Brad Paris 'deep.'
Andy said after the game, "I hate short fields." This is the Dictators second loss in as many weeks on a shortened field to an understaffed team. Dictators end the week 4-4, and Thunder ends protecting its number one spot.
---
Rain forces relocations and cancellations in W2

Good Times, Emotions, and True D at Inwood

2 May | MUD Newsdesk

The weekend was rather nice. Alphabet Soup found another W against Rhino Cats. Emotions were excited through two wins against True D and then Good Times. The Dictators just couldn't handle Good Times; however, they triumphed over the short-handed True D.
But Sunday's crowning achievement belonged to Captain Jeannine of Thunder Gun Express. The Gun kicked off Week Two with a narrow win over Stinky Britches, and it was Jeannine Opie's 100th win in her MUD career. Jeannine joins the Centurions in her 12th MUD season and is the first 100 winner of this young spring. It is possible that six more players could join Jeannine in the Sp14 class, but not if this damn rain keeps up.
Rhino Cats and Emotions found a way around it on Tuesday. With bad-mood clouds strangling the day, the 72nd St. field was ruled out. These wanting-to-bout teams sent a scout north to 103rd and Riverside to squat on a turf field normally occupied by a softball league. That league had canceled due to rain and our teams played a 6 on 6 game until darkness. Emotions brought the bigger squad and came away with the win, scoring a Callahan to deflate what had been a charging Rhino Cats' comeback.
Wednesday was a little too wet. The leadership of Good Times and Stinky Britches sent several emails employing various let's-not-play persuasions. The keyword summary is: rainy, windy, cold, the field is far away from stuff, lightning, destiny, canceled.
Thursday was one of the year's most beautiful days so far. But the balding, overindulgent Riverside field was terribly hungover from its massive drinking bender the night before. Thunder Gun and True D had to stay inside: our third rainout!
At last, Friday saw some action. It was small action, on half a soccer field in east Harlem, but it was ultimate. The Dictators took on Alphabet Soup and Dictators' dictator Andy claims his team drown in their own soup. Andy also said "Soup had no problem running and throwing over and past The D. Cat Rice seemed to score all the goals for Soup, and Ryan Drost got all their Ds." On the plus side for The Dictators, "Chris Riederer came out for the first time for the Dictators and was a welcome talent. He played with an intensity not common in the league, taking on Drost with apparent indifference. Anyhow these are just words, The Dictators have another loss and the Soup shows no sign of cooling down."
Thunder Gun and Stinky Britches beware. Let's get some Sunday! Come on Week Three!
---
Reunions, Rain and Wind in Week One
25 April| MUD Headquarters
Despite Easter, Passover, and everything else, opening Sunday went off splendidly. At Inwood, the tall and confident Emotions, led by two-time Spring champ Mateo, put up two wins over Jeannine's athletic, poachy Thunder Gun Express (her 6th leadership gig) and first-time captain Travis Rothbloom's slightly under-staffed Stinky Britches. Andy's The Dictators were there as well, defeating the Britches at universe point and losing to Thunder in the late game. Andy was terribly ill and had to be told about his team's first games. One surprise was that The Dictators heralded the return of long-lost Matt Kushner, who is still dishing out lefty breaks after a 12-season ditch.
Riverside Sunday saw Gabe Finkelstein and Jake Walkup in their captaining debut with Alphabet Soup spelling out victory over Good Times, led by another pair of freshman captains: Mark DQ and Hunt Clark. The Soup looked fast and ready, and Hunt noted that Soup's Ryan Drost "made a couple singular plays that probably only Drost could make."
In the second Riverside game, Bob's slam squad called True D showed off with a seven-point win over the third rookie captain pair, Chris Nelson and Orion Burt and their Rhino Cats. Rhino Cat Frazer suggested that his team "was still figuring each other out, working on our chemistry." He also added that Bob's team was somehow wildly stacked.
Tuesday got rained out, just barely, and Jeannine was robbed of her first chance at 100 wins. Her next chance is Sunday at 12pm against Stinky Britches.
Wednesday was Gabe's first chance to emerge from his old captain's shadow and show the league his own drafting and captaining prowess. In East-River wind so ugly that Brooklyn could hear Mateo's shouting, Alphabet Soup remained undefeated after playing with Mateo's Emotions. After the win Gabe told The Latest: "I don't really understand how or why we won, except that my team is awesome and showed up, both literally and figuratively." Emotions weren't all weepy though. In fact, they found joy in Ben Berger, who, like a true competitor, heard about Kushner's 12-season absence and returned himself to MUD after 13 seasons.
Thursday's game began miserably. After 13 turnovers, The Dictators finally scored the game's first point to go up a break on Rhino Cats. Andy, who was feeling recovered, at last joined his Dictators and told The Latest, "the game was much better than the first point." But of course he said that, The Dictators won.
Andy also trumpeted the scouting report: "Chris Nelson and Yuvi Pearl had some impressive IO break forehands; however, the big arm of Frazer was silent most of the evening. Won Chun had an impressive grab on a trailing hammer that ignited the Rhino Cat zone. All of MUD is on NOTICE: that guy is here to play this season. Josie Pratt vs. Rose Comaduran was the game's marquee matchup. Josie showed some of the moves that made her a force to be reckoned with in seasons past. Rose, on the other hand, made some sweet plays right back on Josie. Eric Shoemaker showed a veterans swagger, scoring on a few green MUDers. Neil Francisco showed his toughness; he was injured on a catch for a score but returned late in the game."
And Friday saw that "wildly stacked" True D team wiped out by Stinky Britches. Travis will see if his team can build on that momentum to move ahead of Thunder Gun in these super early standings. Bob and True D will look to recoup against Emotions, who are also looking to get back on the win train.
Once you taste MUD victory, you want it all the time. Ahem, Good Times and Rhino Cats, don't you want into this beautiful wonderfulness that is winning?
---
MUD IS BACK with Spring 2014
27 March | MUD Headquarters
Oh man, it's time. My goodness, it's about damn time. Competitive MUD has returned, and we've got all the old fields back. You better sign up so we can get all the old friends back too. See you April 20th.
---
Summer 2017, Spring 2017
Fall 2016, Summer 2016, Spring 2016
Fall 2015, Summer 2015, Spring 2015
Fall 2014, Summer 2014, Spring 2014
Fall 2013, Summer 2013, Spring 2013
Fall 2012