Fall Ends with Brownies and Thimbles for All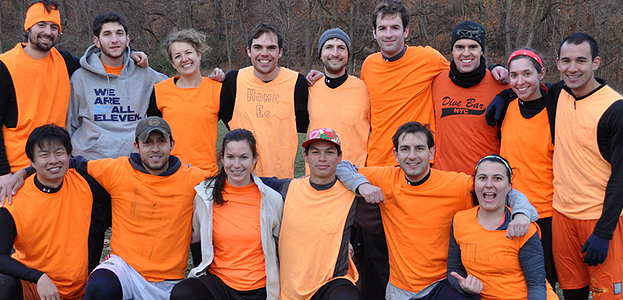 24 November | MUD Central School
It wasn't completely obvious that Home Economics would find themselves in an all-out battle with Detention for best class at MUD Central this season, but sure enough, that's what the school year came down to. Math took an early exit to Detention, and Home Ec clobbered Art in the first rounds. Detention then put the dunce cap on Social Studies, winning 14 to 12. History class couldn't seem to prevent the invasion without their deeps (Nielsen and Loble) to cover Detention's worst delinquent (Drost). Meanwhile Home Ec. balanced the checkbook at 15 to 6 in front of an imploding AP Chemistry. The Advanced Placement team never knew what hit them. Was it a home made pillow? Some newly-darned socks? Attendance issues due to the delayed finals seemed to affect all the teams, but that's certainly not why Detention or Home Ec. made the finals.
It was good, old-fashion, well-played ultimate. Dump and swings, well-measured hucks, crafty give-and-goes, and monster Ds.
In the end, Home Economics was able to sustain the intensity for longer than the after-school hooligans. Perhaps it was a season's worth of preheating. The final was 15 to 9, and now Mr. Schneider has won both Fall seasons that he's captained a team through. He, Scotty Knackmuhs and Felipe Rivera got their fourth finals' victories, and MUD constants Chris Nelson, Jared Lenow, and Anca Giurgiulescu finally got their first championship wins after six, six, and seven seasons-played, respectfully.
And from the beloved Principal Suntaree: "Congrats to all who braved these gusty weekends of outer-borough academic ultimate. You've made our school proud, and our league terrific."
---
Teams in their Places
17 November | MUD Central School
Classes have concluded and this school year is almost over. Finals are reset for November 23rd. The first tests will commence at 12pm (Art @ Home Ec. and Detention @ Math). AP Chem and Detention had stellar demonstrations in Week Eight, and moved up in the standings. Let's look at the seeding and thematic speculation in order below.
#1 Social Studies: Historically Speaking
Though they lost to Math in the final week, this season's top seed is the favorite. Social Studies went 11-3 and won eight games in a row. That's what former Fall champions SuperGreen did in 2010 right before they rolled through that season's tournament (SuperGreen also lost their first game of the final week in 2010). But guess who SuperGreen beat in that Fall's finals: Mateo. In fact, Mr. Mead has lost the last three Fall finals, famously. That said, the top seeds in the last six seasons have all been helmed by the Social Studies teacher, and four of those teams won championships. Five historians are coming off a championship win in the summer, including Jake Walkup, who is poised to win his 4th in a row. So which History will repeat itself? Perhaps none? Overheard in the classroom this week, Mr. Mead was telling his team: "There is no such thing as the past. Drop all that. We are History, right now. Now. You can bring whatever roster, record, or reputation you want to the game. No one cares. It's who wins the game that matters. That's our future. Everyone else gets failure."
#2 AP Chemistry: Useful Elements
A final trip to the Dub Dub Club was a good plan for AP Chem. They stole the second seed from Home Ec. and will await the "highest-remaining seed" in the 1:30pm semifinals. The last 9-5 Fall league team to enter the playoffs did so in Fall 2012. You remember Rabble Rousers. They got a championship. After school this week, we asked Miss Opie what she thinks the right mixture is. Is it Bob and Heff? Her five rookies? John Kim? Miss Opie told us, "after two months of sometimes-inconclusive, sometimes-successful lab experiments, AP Chem finally found a winning formula. We're not revealing the secret just yet, but it involves liberal use of JO2 (JOsh Kent and JOhn Sakon), and it wields impressive results." And those two aren't even one of Chemistry's six baggaged pairs! As Miss Opie implies, the availability and proper combinations of her student groups will likely determine Chemistry's success, but she gave a warning to her potential (predicted?) opponents. "Watch your homemade garments. Our bunsen burners will be running hot. And Detention?" At this point, she began laughing uncontrollably. Between wild giggles: "AP students don't get detention."
#3 Home Economics: Following the Recipe
Mr. Schneider's class looked like they forgot their stitching patterns last weekend. According to the family & consumer science teacher, his class has "been trying out some new recipes in the kitchen. They came out burnt last weekend, but with a few tweaks and a little spice, things will turn out perfect for the playoffs." Schneider spent all three seasons of 2012 in the finals and hasn't been back since. He needs to recall the legendary Rabble recipe (he's got five students that might remember it), or more recently, the one that cooked up that 15 to 4 smothering of Detention in Week 5. That was in the middle of their second 4-game win streak of the season. No 8-6 regular-season team has ever won finals. No team coming off a three-game losing streak has either. Luckily for Home Economics, surprises are a regular thing in a cooking class and everyone peaks at the semester's end.
#4 Mathematics: By the Numbers
In Week Eight, once they beat Social Studies, Math faced their nemesis, Detention, and lost to them for the second time. Of course, this means Math will face Detention again in the Quarterfinals. Prof. Goldberg is not a stranger to the finals, but he hasn't won since his worst-to-first Reverse Predators miracle of Fall 2011. But check this out. If you calculate the number of times each player has been to the finals and divide it by the times they could have gone, you see how often each player goes to the finals (as a percentage). Then average those percentages within each team. You get: Detention 11%, Art 22%, AP Chem 26%, Home Ec. 36%, Math 41%, and Social Studies 42%. We showed these numbers to Prof. Goldberg. He said, "if you're saying that in a vacuum, based on prior performance, each of those percentages are the average likelihood of the team making finals, you'd have to make some corrections to the formula. Here's where it gets complicated:
Since two teams make finals, the percentages have to add up to 200%
Some teams are more likely to make finals than others, since they're playing fewer games.
Who plays whom depends on the results of the first round"
When asked if he could add up a competitive advantage for Math, Prof. Goldberg did some quick calculations in his head and said, "we've got the numbers, all signs point to a high probability of winning finals." Numbers don't lie. Professors don't lie.
#5 Detention: Learning from Mistakes
As usual, Detention gave us all something to think about in Week Eight by showing up at the Dub Dub Club after taking down Home Ec. and Math. What's with these inconsistent trouble makers? They seem to realize when they show up, they do well. But do they have a shot? Only three people on Detention have ever won a MUD final. Three others have been to only one. They have nine rookies, including their captain, the long-term substitute, Mr. Bishop. At least they have Hunt, a Centurion. Gambling is strongly discouraged at MUD Central, but when Hunt throws it to Ryan Drost, put money down that it's a score. And now that they've busted up a winning-record team, the orange behemoth nonetheless, there might be some actual fear of the after-school, punishment class.
#6 Art: Finishing Touches
Their Week Eight losses to AP Chem and Social Studies added to Art's five-game season-ending slump. They climb into the playoffs at 3-11. Their recent company at that record includes Summer 2013's The Scientific Method who scored three points in the playoffs, Fall 2012's The Fjords who were outscored by 13 points in two playoff pool-play loses, and Fall 2012's SmileCrab who actually beat the eventual champion Rabble Rousers during tournament pool play. Art should hold onto that last historical anecdote, especially if they beat Home Ec. in the first round and have to face Social Studies. What does the school think of their chances? Art's faculty adviser Martha Gregory has spoken of "jumping" and "guns" and says we should all be ready "for ART to dominate the WORLD." The Art teacher Mr. Eklund sent this op-ed into the student newspaper: "ART was the class you either cut or loved, and the same has been true for our season. I'm not concerned with school records, who's done what, when where or how. Come finals, what matters most for us is being there. I'm not sure that other classes can handle ART, when ART Class is in FULL EFFECT. Our final projects and senior shows will be something else. In the end though, we may just cut finals and go straight to the party, it just depends how we feel Saturday morning."
The Centurion Effect?
Lastly, there are 26 Centurions: MUD players who have won 100 games. 16 are in the league this season. In the Centurion Era (since Fall 2011–the past six seasons), the team with the most Centurions has always made the finals, and has won 2/3 of the time. Art, Detention, and Home Ec. each have one Centurion. Math has two. Social Studies got two this season and now has five. AP Chemistry, six. Just saying.
---
Finals Postponed to November 23. Prom to Follow
16 November | MUD Principal's Office
After about 6.5 rain drops fell a few miles away from Van Cortlandt Park, our dear principal called the grounds-keeping office only to receive a recorded message: "All facilities are closed to do poor conditions." This means Finals and Prom have been postponed until next Saturday, the 23rd. And even though Prom is just a week away, quit dancing. We've got to keep this rain away!
---
Social Studies Slams Week Seven, Takes Top Seed
3 November | MUD Central School
With yet another Dub Dub Club weekend (this one giving them a league trick), Social Studies has already guaranteed themselves the top seed in the finals on November 16th. Apparently nobody misbehaved during the week, as Detention–Social Studies first opponent–was savage for round one and lost 6 to 15. The highly anticipated match between SS and Home Ec. came in round two after Home Ec. had defeated Art 15 to 7. Both teams were excited and the lead swapped throughout the game. The Studs pulled away with two breaks just as soft cap was called and won 14 to 12.
Math arrived to compute and eliminate AP Chem in the other 2pm game (note: Nov 9th games are a half-hour shorter, and the second round games will start at 1:30pm). Prof. Goldberg led his class to a surprising 15-6 victory over Miss Opie's Advanced Placement students. Miss Opie was missing (allegedly run off with Mr. Bishop), and her betrayal weighed heavily on the AP brats.
Math got a second win against a team without numbers! Art brought about 6 players to their obviously difficult game against Home Ec., and after losing their thimbles in that bout, those artists were sure tuckered out and forfeited home to nap (or maybe they went looking for Mr. Eklund). So Math had to use the side door to get into the Dub Dub Club–nobody likes a forfeit)–and Art had to/has to seriously reassess their goals for this semester, especially with Prom and finals looming.
Detention stuck around for their late round game vs. AP Chem. This time Chemistry consulted the periodic table and turned in a Phosphorus15 to Detention's Sodium11.
What to play for this week? Well, finals seeding. It is likely going to be a single-elimination affair; seeds 3-6 play at 12pm, the winners face seeds 1 and 2 at 1:30pm, and the championship is at 3pm. Home Ec. gets the #2 seed with a win OR an AP Chem loss. Home Ec. and AP Chem could play each other for the #2 seed if they come to their game with a loss and a win, respectively. For the #3 seed, Math needs two wins and needs AP Chem to lose without making up the 12 differential points. Art and Detention have the #5 and #6 seeds locked up, Art can claim #5 with a win or a Detention loss.
---
High Marks and Complete Failures in Week Six
27 October | MUD Central School
Seemingly unstoppable Social Studies aced the AP Chem test this weekend, jumping into solo first place. The score was 13 to 10. Tragically, AP Chem had lost their first-round game to the resurgent Home Economics, 7 to 11. From a tie for first, AP dropped down to third, and if it weren't for Math's miserable weekend, they may have gone even lower.
Math lost to Detention 15 to 7, much to Prof. Goldberg's surprise. He warned Detention's next opponent, "watch out for them. They're on today." Math then failed the sewing exam and lost to Home Ec. 15 to 11. They remain stuck in fourth place.
Art ended up in Detention for the first round and apparently found some inspiration (perhaps from Prof. Goldberg?). Art snapped its awful streak and rocked the rejects 15 to 7. Their brilliance waned in the face of History however, and they lost to Social Studies 9 to 14.
After school, the faculty advisers for the Dub Dub Club, Mr. Mead and Mr. Schneider, discussed how they each won their third-round games. Mr. Mead argued that Laura Kaplan might actually be uncoverable. Mr. Schneider claimed he'd never seen anyone as fast as Melanie Bronfeld. Mead nodded and bragged about Catherine Rice's monster Ds and stone-cold catches, noting that even Art's Jon Read had said, "Damn, that girl catches everything." Schneider, not to be outdone, posited that in Home Ec.'s four-point defeat of Math, Anca Giurgiulescu was famously steady in the wind. Mead countered that Social Studies beat Art by five and gave an anecdote about Andrew Weisman's nasty endzone moves. Schneider said Ruben Land probably wouldn't be that impressed. It got real quiet. The tension was palpable. As these grownups stared unflinchingly at each other, all jovial pretense was clearly gone. They shared the same thought: 2pm, Nov. 2nd. Show down.
---
Ruined recipes and pathetic paintings in Week Five
20 October | MUD Central School
Here's a current event: Social Studies spoiled some streaky batter at 2pm on Saturday, putting together a 12-11, comeback, universe-point win against Home Ec. After winning the week's marquee game, Social Studies out-lectured Math 15 to 12 for a second time in two weeks. That's four wins in a row for the Historians.
Also ruling the weekend, and remaining tied for first with Social Studies, and finally returning to the Dub Dub after-school Club was AP Chemistry. AP found the right formula against Detention and Art. At the faculty meeting, Miss Opie shared her thoughts about the games. Her speech was replete with mentions.
"By noon, AP Chem had a strong showing, and Detention had 4 men and 3 women. The teams agreed to offense decides. Both Detention and AP Chem found success with strong cutters, who managed to hold on to discs in somewhat windy conditions. Spencer Burke, Brendon Cambra, and Kelsey Brooks kept things moving for Detention, and Aaron Cannon, Chris Tan, and Winston Suntaree consistently got open for AP Chem. Chemistry took an early lead due to great flow and occasional deep looks, specifically Josh Kent to John Sakon (and one beautiful throw to John Kim streaking deep). Half was 8 to 3, AP Chem.
"The arrival of Detention's captain Porter Bishop and also Steve Kramer bettered everything for the trouble-making students. Detention found their flow with gorgeous throws around the zone and poachy layout Ds–two coming from Bishop. Plus Kramer made several downright impossible-looking layout grabs for scores. While Detention outscored them in the second half, Chemistry pulled out the win in the capped end: 14 to 11.
"AP Chem's game against Art began with injures and departures. However, AP gained Travis Rothbloom whose chilly play (and fresh legs) proved to be a tremendous asset. Mr. Eklund and his class of artists had a plan: zone D. Due to the wind, Chemistry responded by also throwing zone. Art sent out its line of "A" handlers: Andy Eklund, Albert Wu, and Alice Chang. Chemistry responded with their "J" line: Josh Kent, John Kim, and Jeannine Opie. AP Chem took half 8 to 3.
"It seemed that Chemistry had found their…well, chemistry. Even John Kim, with a bloody nose, powered through. He wasn't going to miss a minute of the action. Chem's second game was truly dominated by their women, collectively scoring at least seven points. Jordan Rosefigura effortlessly found her way into the endzone point after point, and Meredith Martin's strong cutting was also rewarded by a couple of scores. Even Jeannine ran riskily up-line for a point. Unfortunately for Art, Emmanuelle Humblet had to leave mid-class, which left Alice Chang and Jasmine Remillard without subs. Chem's successful zone offense was again largely due to the connection between Josh Kent and John Sakon. Despite the hard work and auctionesque bids from Art's Mike Rediker, Jonas Cartano, Anton Pribysh, and Bryn Tulip, Chemistry won 15 to 8."
Art lost its fifth and sixth game in a row in week five. Before the AP Chem bruising, they had fallen to Math, 9 to 15. Art now possesses this season's worst losing streak. Therapy painting doesn't seem to be enough. Mr. Eklund needs to skip through the abstract expression and start preparing his class for the real world.
Detention also returned to the Lub Lub Club, unable to capitalize on the momentum from their Week-Three win (a canceled week can do that to a team). As mentioned by Ms. Opie, Detention's game against AP was windy, but close in the end. However, even with Mr. Bishop, Detention got expelled by Home Ec., 15 to 4. The monster win by Home Ec. was needed by big orange after the universe point loss. The win also ties this season's largest single-game differential, which happened against Home Ec. when they played Math in Week One. Mr. Schneider's class has slipped just behind AP Chem (and Social Studies) and just ahead of Math in the standings. The kitchen class faces both those subjects in Week Six.
---
Classes Canceled in Week Four for XC Invitational
12 October | MUD Dean's Office
A plague of skinny, slow high schoolers have taken over the school grounds for their sinuous 2.5 mile running competition. School is thus canceled for today and will resume next week under the Week Five schedule. Due to the cancellation, be aware that a schedule change for Week Seven has been made.
---
Home Ec. bakes a big cake and parties with Social Studies in Week Three
6 October | MUD Central School
Technically they won twice, but one of the two victories with which Home Ec. decorated their week three cake was earned by simply showing up. The degenerate problem children of Detention couldn't even get out of bed for their match against the cooking class. A forfeit in Fall league? That hasn't happened in two years. Leave it to the new teacher; what's his name again?
Home Ec.'s second victory, however, was masterful. Even without speedy handler Chris Nelson, they reduced Math (who had only a fraction of their players at 2pm) to irrationality and won 15 to 7. Home Ec. has a chance at a league trick in their 2pm game against the struggling Artists next week.
Social Studies finally finished their two-week unit on balance of power (they ended the first two weeks 1-1) and seem to have moved on to imperialism. At 12pm, they conquered the faculty emeritus meeting that was AP Chem, 15 to 8. Then, after some off-campus carousing, they hunkered down against Math's stall-one, lefty, break-mark barrage and eventually outgunned the Mark DQ-led advances to get their second W at 15 to 12. The big win was future governor Eric Nielsen's 100th in MUD history. He becomes the first Centurion of the class of Fall 2013. Can Amadeo (95), Miss Opie (93), and Prof. Goldberg (92) join him?
So Math lost twice. And so did Art, for the second week in a row. Must be in the midst of the Van Gogh unit. But wait. If Art lost twice, that must mean… Indeed. Detention finally worked together and proved they're not completely unmotivated delinquents. Some say that rookies Francisco, Wheeler, and Kreuser were finally on their game. Some say Rose Comaduran finally tried in week three. And still others argue that Detention won because Hunt and Drost finally showed up to do their time. Regardless, they beat Art on universe point, and now the whole school is nervous. But are we?
---
Studying for Home Ec. and Math Pays off in Week Two
29 September | MUD Central School
Home Economics added a bit of spice to their mix and cooked up two wins on Saturday. They out-reciped a teacherless AP Chemistry in first period, and then they narrowly survived a late-game lecture in zone from Social Studies. Home Ec won both games 15 to 13 and balanced their record at 2-2.
Math added two wins to their ledger as well. First they were (informally) nonplussed by a still unsupervised Detention; they won 15 to 12. Then Math showed their work against those Art students, winning 15 to 8. Math moves to 3-1.
Despite its high-brow first day, Art class just couldn't seem to find the right medium in week two. Prior to the Math loss, Art started the school day unable to navigate the map in Social Studies. That game ended 15 to 8. Art and Social Studies join Home Ec. at 2-2.
Many AP Chem students bailed before last period; however, with Ms. Opie out sick (but allegedly at book club!), they didn't receive Detention. In fact, with the 15 to 11 win, AP Chem remains tied for 3-1 first and Detention–perhaps appropriately–becomes the only class without success. Missing Mr. Bishop is the seventh first-time captain in MUD history to start 0-4 (the last one, Jake Hall with SmileCrab in Fall 12, actually went 0-10).
---
Meteorology 101 not offered in Week One, but Wind showed up anyway
21 September | MUD Board Room
School officials gathered on Saturday night in an attempt to determine whether the majority of what went on during the day could actually be called ultimate. Van Cortlandt has boasted a reputation of fields comparable to Elysium; what everyone apparently forgot to mention were the devastating winds. But Art, AP Chem, Math, and (in their second game) Social Studies had an easy enough time scoring against the gusts, that the school board simply advised windbreakers and pushing harder with your thumb when throwing next week.
We all expected Miss Opie's AP Chem to be hard, but it turns out Mr. Eklund has International Baccalaureate expectations for us in Art as well. Both classes went 2-0 in week one, though AP Chem–after grounding Social Studies 12 to 10–barely carried the one against Math, winning 11 to 10. Art may have drawn the easy schedule, but they erased Detention 13 to 5 and canvased Home Ec 10 to 8.
Mr. Mead's Social Studies class got out of Detention no problem, winning 13 to 5 to finish the day 1-1. Also ending week one 1-1, Prof. Goldberg's Math class began the day by numerating on Home Ec. 15 to 4. At 0-2, Mr. Schneider might need his Home Ec crew to check the temperature of their ovens going into week two, and Detention might need Mr. Bishop to actually be there, especially with all these new kids.
---
Classes Canceled on Sept. 14th
14 September | MUD Dean's Office
Due to religious holidays, extracurricular sporting events, and dozens of unsigned parent-permission slips, MUD Central School will remain closed until September 21st. We look forward to reopening our prestigious doors to our pulchritudinous incoming class at that time.
---
School's Back in Session
13 September | MUD Central School
Summer's officially over. You hear that ringing? That's first period. Sure you're a bit nervous; we all are. That's how the first day goes. You just got off the north-most stop on the 1 train, and you're headed to the Van Cortlandt Park campus. And then you remember, this is MUD. This is the most fun I have all year! Well, welcome back.
But wait, VCP is in the Bronx. That's Metropolitan Ultimate Disc, baby. This semester ends on November 16th: graduation. Come out and meet your classmates. Get detention. Play hard. Show some school spirit. Man, every moment is more and more exciting!
---
Summer 2017, Spring 2017
Fall 2016, Summer 2016, Spring 2016
Fall 2015, Summer 2015, Spring 2015
Fall 2014, Summer 2014, Spring 2014
Fall 2013, Summer 2013, Spring 2013
Fall 2012